The yellow, diamond-shaped signs dotting city streets ask motorists to share the road, but Lawrence cyclist Nick Theobald often wonders whether drivers take that message to heart.
"After being hit by a car you're a little more sensitive," he said, before a recent bike ride from Lawrence to Baldwin.
Theobald was struck by a car while riding his bike last October at the intersection of Harvard Road and Iowa Street. He considers himself lucky for escaping the accident with only cuts and bruises.
"I don't think they realize that they have a couple of tons of steel," Theobald said of motorists. "I lucked out. I cut my leg and bruised my back when I hit his windshield. Apparently, he thought he had the right-of-way."
Theobald is not alone. Last year 22 bicyclists were involved in accidents in Douglas County, and 21 of them suffered injuries, according to the Kansas Department of Transportation. In the past five years, more than 100 bicyclists were injured in accidents on Lawrence and Douglas County roads.
Despite those statistics, cyclists who regularly travel on the city streets say Lawrence is a bicycle-friendly place to ride.
"We have a lot of good roads and considerate drivers, and it really makes a difference in day-to-day riding," Lawrence-Douglas County Bicycle Advisory Committee Chairman Eric Struckhoff said.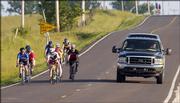 Struckhoff rides thousands of miles every year and sees common mistakes repeatedly made by both cyclists and motorists. The Bicycle Advisory Committee hopes to clear up some common misconceptions and educate both groups about the rules of the road, especially during the summer months when more cyclists are out on the roads.
"The average bicyclist should know that even though the law gives you the same rights as a motorist, it gives you the same responsibility to obey all the laws that exist for motorists as well," Struckhoff said.
That includes stopping at all stop signs and red lights, riding with traffic, not against it, signaling which direction you are going, and in general, acting like a car if you're riding in the road.
"One thing cyclists aren't aware of is that you shouldn't pass on the right side of a line of cars that are waiting at a light or stop sign," Struckhoff said. "You should get in line like the rest of the cars."
Bicyclists can ride on sidewalks if they choose, except for in the central business district, which includes Massachusetts Street.
Struckhoff said it's just as important for drivers to know the laws that apply to bicyclists.
"State law in all 50 states allows bicyclists to ride two abreast," he said.
Yet Michelle Jensen, a rider for the Free State High School racing team, said she's heard complaints more than once when riding side-by-side with another cyclist.
"I think that drivers don't realize that we're allowed to go two abreast," Jensen said. "They yell at us a lot to go single file, and we don't have to. It's actually not as safe as if we're two abreast because that way we're more visible."
Struckhoff says one of the most common mistakes drivers make is underestimating the speed a bicyclist is traveling.
That's something Theobald noticed after his accident last year.
"I've found myself being frustrated and short-tempered with cars lately," he said. "I scream at them sometimes, which is not the best thing to do."
Instead Struckhoff hopes both groups will learn the traffic laws, follow them and, more importantly, use common sense.
"The main thing is to really be courteous out there," Struckhoff said. "Whatever the law says, you go a lot further by just being courteous to your fellow road user."
Heads-up on helmets
Attention, kids: Wear a helmet. It's the law. A Lawrence city ordinance passed last year requires children under 16 to wear a helmet when riding a bike. The Lawrence-Douglas County Fire & Medical Department gives away free bicycle helmets through the Wheeled Sports Program. To receive a helmet, parents may bring their children to any Fire & Medical station for a fitting.
Be advised
The Bicycle Advisory Committee welcomes public input. The group meets at 5:15 p.m. on the third Tuesday of every month at Lawrence-Douglas County Fire & Medical Station No. 1, 746 Ky.
Trouble Spots around town
21st and Iowa streets
PROBLEM: 21st street is a designated bike route, but cyclists must cross the heavy vehicle traffic on Iowa street without the benefit of a signal or a crosswalk. SOLUTION: The Bicycle Advisory Committee would like to see a pedestrian/bike bridge built over Iowa street.
23rd and Vermont streets
PROBLEM: The bike route on Vermont Street faces similar traffic problems where it crosses 23rd street. SOLUTION: The committee recommended moving the Vermont Street bike route to Massachusetts Street between 11th and 24th streets to take advantage of the traffic control signals at 23rd street.
Kasold Drive and the South Lawrence Trafficway Bike Path
PROBLEM: The paving of Kasold Drive south of 31st Street has increased traffic speeds where bicyclists using the SLT path cross the road. SOLUTION: Douglas County Public Works Director Keith Browning said his department had been working to clear brush from the area to open up sight lines. Bike crossing warning signs also have been updated and installed, and the city used pavement markings to make the crossing more visible to motorists.
Pedestrian islands
PROBLEM: At various locations around the city, pedestrian islands have been installed on streets where bike lanes once were. However, roads have not been widened to accommodate those islands. SOLUTION: The committee recommends installing "bump-outs," basically pushing out the curbs to increase the road width around the pedestrian islands.
Copyright 2018 The Lawrence Journal-World. All rights reserved. This material may not be published, broadcast, rewritten or redistributed. We strive to uphold our values for every story published.