Lawrence is bicycle friendly, according to a new report from the city's Bicycle Advisory Committee, but it can still do more.
"The community of Lawrence has made some strides, but it's an ongoing endeavor," said Dan Hughes, a committee member. "We can always do more to promote alternative forms of transportation, and bicycling is one of them."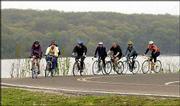 The committee report gave some suggestions on how the city can be friendlier to cyclists:
Officials can be more aware of bicycles when designing traffic improvements.
"Concern for cyclists should be a part of every roadway improvement, public or private, in the city," the committee said. "The most recent example was the lack of accounting for bicyclists in the design of the Louisiana Street traffic-calming program."
The committee said the new traffic-calming islands provided safety for pedestrians, but made it harder for cyclists to pass.
Give bicyclists better notice of construction zones along trails.
Bicyclists often stumble into construction zones, or are forced to backtrack, because of a lack of detour signs, the committee said.
"Requiring contractors and city crews to notify of trail closures before the actual break in the trail would be beneficial to cyclists, pedestrians and residents," the committee said.
More money for routes and trails.
"The city should consider permanent annual set-asides from money currently spent on roadway improvements to increase the amount of bicycle facilities throughout Lawrence," the advisory committee said. "A little will truly go a long way."
Create a pedestrian advisory committee to create more and safer walkways.
The report praised the city for adding nearly four miles of routes, lanes and paths for bicyclists during 2001, on top of the 60 miles that already existed. And it noted that Lawrence bicycle accidents have dropped from 34 in 1997 to 12 last year.
The Lawrence City Commission will receive the report and consider applying for a $30,000 state bicycle-safety grant at its meeting at 6:35 p.m. Tuesday at City Hall, Sixth and Massachusetts streets.
Copyright 2018 The Lawrence Journal-World. All rights reserved. This material may not be published, broadcast, rewritten or redistributed. We strive to uphold our values for every story published.