Jim Whittaker has three simple rules he teaches up-and-coming cyclists: have fun, be safe and ride fast.
At Thursday night's Cycle Works Twilight Bicycle Race at Haskell Indian Nations University, one young rider suggested a fourth. A small girl in the middle of the pack of at least 50 riders eagerly quipped, "Don't bump into anyone."
Whittaker couldn't help smiling in agreement and happily added Rule No. 4 to his list. He later praised the girl's wisdom, as well as her enthusiasm for participating.
"It's funny," said Whittaker, a Lawrence resident and cycling guru who has operated Velotek Training from his home since 1994. "You have a 3-year-old saying, 'Please don't bump into anybody,' but the kids really are a lot smarter than we give them credit for.
"If you try to hold them back, like putting younger kids behind the older kids, they want to move up. They're really competitive in a positive sort of way."
Five years ago, local races were hard to find, but American cyclist Lance Armstrong's stretch of six straight Tour de France championships changed the cycling landscape. Now, Whittaker is in his third year of offering free races for children as part of the local racing series.
"I definitely see some growth in it with newer kids out there," he said. "And more importantly, we have kids who started racing out here when they were 2, and they're still out here. That shows loyalty and real excitement. Lance has given local people a real chance to get kids involved in cycling."
Whittaker said the key to sustaining cycling's surging popularity was targeting kids, who have responded by making bike riding a daily ritual.
"I've been riding since I was little... since I was five, or maybe four," said Richard Paz, 9, a rider from Leavenworth who sported a yellow jersey -- the same color worn by the lead rider at the Tour de France. "I ride pretty much every day."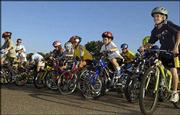 He isn't the only one. In addition to dozens of kids in Lawrence, C.J. Meeks is an everyday rider who has taken interest in competitive riding. Meeks, an 8-year-old from Shawnee, nipped at the tires of the pace bikes and was the overall winner of Thursday's youth race.
"I like being strong and being able to ride in races," said Meeks, who rides his bike daily and said he wanted to ride in the Tour de France.
Children aren't the only people embracing the biking boom. Parents see the benefits, which include cardiovascular fitness and being an alternative to traditional sports.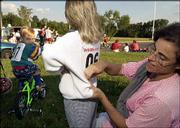 "I can't get them to get up and go to school in the morning," said Maria Paz, Richard's mother, "but they have no trouble getting up for a bike race or bike activity. That's not a problem.
"And it's a great alternative to the standard mix of sports that most American kids get exposed to. Not every kid is a ball-sport kid. Some people need to be a wheel-sport kid. It's something different."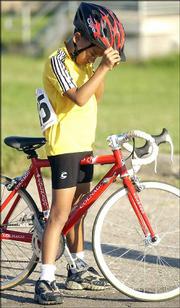 Copyright 2018 The Lawrence Journal-World. All rights reserved. This material may not be published, broadcast, rewritten or redistributed. We strive to uphold our values for every story published.