Dallas — Harry Potter: pariah or parable? For a vocal group of Christians, the answer was resoundingly pariah when "Harry Potter and the Sorcerer's Stone" made its U.S. debut in 1998.
The Harry Potter books, dealing with Harry's education at a school of witchcraft and wizardry, have topped the American Library Assn.'s list of most protested books since 1999, according to Beverley Becker of the association's Office for Intellectual Freedom in Chicago.
Some churches even burned the books. The books' opponents cited biblical injunctions against witchcraft and divination, such as those found in Exodus and Leviticus.
But that opposition may be doing a vanishing act that would do Harry's professors proud.
Reg Grant, professor at Dallas Theological Seminary, has noticed that protests have been muted as the sixth book, "Harry Potter and the Half-Blood Prince," was readied for release today. He wasn't surprised to hear that Harry dropped off the top-10 list of the ALA's most protested books last year.
"We were hearing so many complaints, and now we're hardly hearing any complaints at all," Becker said.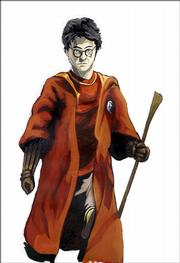 Films credited; parable touted
Grant believes that an increasing number of Christians are "seeing there are many lessons we can celebrate and shake hands on." He also credits the Harry Potter films for the apparent change of heart. "I think the movies illustrated how much Christian theology has in common with the message of Harry Potter. Without the movies, we would still have a huge uproar."
And an increasing number of Christian writers are going further. Connie Neal, John Granger, Gina Burkart and John Killinger - a former youth pastor, classics teacher, creative writing professor and Congregationalist minister, respectively - are making a case to their faith community that Harry Potter is actually a parable.
Their theory? That instead of leading children down the path of the occult, J.K. Rowling is using magic in the way that Christian authors C.S. Lewis and J.R.R. Tolkien did, as a way of enchanting children into hearing the story of the Gospel.
Neal shocked many in 2001 when she led the charge with "What's a Christian To Do With Harry Potter?" (WaterBrook Press, $12.99) and then followed up in 2002 with "The Gospel According to Harry Potter" (Westminster John Knox Press, $14.95). Her books were published between the fourth and fifth Harry Potter books.
She read the first Harry Potter book, "Thinking I would explain to my kids why they wouldn't be reading it," said Neal, 47, an author of Christian and inspirational books who lives in Sacramento, Calif., with her husband and three kids.
But, she said, "When I got to the end, I thought that in all my years I can't think of a better illustration of the battle we're in against evil than of one who dies to save the one she loves."
Neal was referring to the moment when Harry discovers that the love of his mother, who died to save him when he was a baby, continues to protect him.
But when Neal wrote "What's a Christian To Do," many opponents were not ready to hear it.
From banned to requested
Recently, Neal has since noticed a change. Angry letters have slacked off in the past year, and she has even started to get thank-you notes. Three years ago, when she would speak at churches, pastors would tell her not to bring her books about Harry Potter. This year, most church officials request them.
Other Christians still oppose Pottermania.
Richard Abanes, a prolific author of Christian books, including the newly released "Harry Potter, Narnia, and The Lord of the Rings" (Harvest House, $11.99), scoffs at the idea that the Potter series promotes Christianity.
Photo Gallery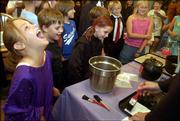 "Harry Potter and the Half Blood Prince" celebrations
"That's just wrong," said Abanes, 44, an evangelical Christian whose new book is the third he has written about the Potter phenomenon. He sees Harry as a child-empowerment tale with a supernatural twist that concerns him.
There has been confusion, too, as to the Vatican's position on Rowling's books. Potter fans rejoiced in 2003 when spokesman Paul Fleetwood said: "If I have understood well the intentions of Harry Potter's author, they help children to see the difference between good and evil."
But when Pope Benedict XVI succeeded Pope John Paul II, Potter critics brought up a letter the former Cardinal Joseph Ratzinger had written that praised a book critical of Harry Potter: "This is a subtle seduction, which has deeply unnoticed and direct effects in undermining the soul of Christianity before it can really grow properly."
Still, the tide seems to be turning.
Like Grant, Gina Burkart, whose book, "A Parent's Guide to Harry Potter" (InterVarsity Press, $11), came out in June, credits the movies with making people less fearful.
"A lot of people didn't know what the books were about. They got all worked up because someone would say how evil they were, and then they wouldn't read the books. Now some of the people who didn't want to read the books have seen the movies, and that may have alleviated their fears."
Like Neal, John Granger picked up his first Harry Potter book only so he could tell his daughter Hannah, then 11, why she shouldn't read it.
Granger, a classics teacher, and his wife are devout members of the Greek Orthodox Church. They home-school their seven children, screen their books and don't own a television.
Granger respects people who don't read the Harry Potter books because their priest tells them not to.
"They're being obedient," he said. "That's part of being a Christian."
But Granger's priest expressed no opinion on Harry Potter. So Granger went ahead and discovered the messages that surprised him and inspired his 2004 book, "Looking for God in Harry Potter" (Tyndale House Publishers, $16.99).
"Harry rises from the dead after three days. Harry is saved by the sacrificial love of his mother. A snake drinks the blood of the unicorn, which makes you immortal but damned. That's First Corinthians," Granger said, referring to the New Testament passage that states: "It follows that anyone who eats the bread or drinks the cup of the Lord unworthily will be guilty of desecrating the body and blood of the Lord."
"This book - and later I found out every book - ends with Harry's figurative death and his resurrection in the presence of a traditional symbol of Christ," Granger said.
He gave Hannah the book the next day.
¢ What does J.K. Rowling Think?
Does Harry Potter author J.K. Rowling consider her books a parable?
Christian author Connie Neal suspects she does.
Neal noted that Rowling has said she is a Christian who attends church. An interview with Rowling in the January-February 2002 issue of Faith Today may reveal Rowling's true intentions, Neal said.
The article notes an earlier interview in which Ms. Rowling said it suits her to keep mum about her beliefs, "Because if I talk too freely about that, I think the intelligent reader, whether 10 or 60, will be able to guess what's coming in the books."
¢ What does it really mean?
Experts disagree on Christian parallels in the Harry Potter books. But author John Granger offers these interpretations from a scene at the end of "Harry Potter and the Chamber of Secrets":
-Harry is Everyman
-Ginny is virgin innocence, purity
-Riddle/Voldemort is Satan, the deceiver
-Dumbledore is God the Father
-Fawkes the phoenix is Christ
-Gryffindor's sword is the sword of the Spirit
Copyright 2018 The Lawrence Journal-World. All rights reserved. This material may not be published, broadcast, rewritten or redistributed. We strive to uphold our values for every story published.