Change is ahead for Kansas University.
After 13 years, Provost David Shulenburger is leaving his post as KU's chief operating and chief academic officer. Candidates vying for his spot at Strong Hall are expected to begin visiting in January.
In the spirit of the holiday season, some atop Mount Oread revealed their wishes for what they want in a new provost.
"I'm going to be looking for somebody who has many of the same qualities as Dave Shulenburger," Chancellor Robert Hemenway said.
Hemenway said he's looking for someone with whom he can partner well.
The provost directs the academics, budget, and operations affairs of the Lawrence campus. Shulenburger, who has been executive vice chancellor since 2002, has a salary of $216,520.
Barbara Romzek, interim dean of the College of Liberal Arts and Sciences, said she'd like to see a provost with long-term vision and a sense of teamwork who could get the disparate entities of the university working together in a common direction.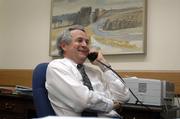 Stuart Bell, dean of the School of Engineering, said he wanted a provost who supported large-scale initiatives. But, he said, the university isn't on hold, waiting for a new provost to provide vision.
He pointed to recent discussions about the research areas upon which KU should focus. KU has identified 15 specific areas for building on current strengths to help shape the future of KU. These areas include global ecology, bioengineering, energy, and the social dimensions of science, technology and engineering.
Bell said the university didn't wait for a new provost to arrive before having these discussions.
"As a dean, I'm not waiting for someone to say what we should be doing and what we shouldn't be doing," he said.
Jim Carothers, professor and presiding officer of KU's faculty council, said he was looking for a candidate with sound academic values.
"What I want to see primarily in a provost is the ability to guide the deans as they develop the teaching and research abilities of new faculty," he said.
And he knows what he doesn't want. Carothers said he didn't want a provost driven by numbers or a careerist who saw KU as a stop on the way to bigger things.
"I hope we get someone who is absolutely committed to the well-being of this institution, and not just stopping here on the way to someplace else," he said.
Shulenburger has opened his door to students, student body president Nick Sterner said.
Even when students disagreed with decisions Shulenburger made, the provost gave students time to make their case, Sterner said, adding that he hopes the next candidate has similar qualities.
"I think it's going to be important to find someone who is as inclusive as this provost has proved to be," he said.
Jeff Aube, professor and chairman of the provost's search committee, said the candidates would have open sessions with faculty members and there would be opportunities for feedback.
Copyright 2018 The Lawrence Journal-World. All rights reserved. This material may not be published, broadcast, rewritten or redistributed. We strive to uphold our values for every story published.