Chat with KU Provost David Shulenburger
Welcome to our online chat with KU Provost David Shulenburger.
The chat took place on Thursday, December 8, at 2:30 PM and is now closed, but you can read the full transcript on this page.
Moderator: Welcome to our chat today with Kansas University Provost David Shulenburger, who has braved the winter elements to join us today in one of our Newsmaker Chats.
I'm Dave Toplikar and I'll be serving as the moderator.
We have several questions our readers have already sent in, so we'll go ahead and get started.
David Shulenburger: Glad to be with you today.
Brad, Lawrence: I have several questions regarding KU's decision to hold classes as scheduled today. With dangerous temperatures and road conditions, why were classes at KU held as scheduled today? Was the fact that this is the last day of classes play into your decision to hold classes? When do you put the safety of students (especially students with disabilities) before other issues when making a decision to hold or cancel classes?
David Shulenburger: Brad, the decisions about classes and inclement weather are some of the toughest ones to make. All of the students and faculty at KU are adults and can make there own decision about whether it is safe for them to come to KU on a given day. This makes us very different from the public schools. Our default is to remain open unless the campus is impossible to drive. The campus was and is accessible to cars and pedestrians today. The last day of classes is an important one to faculty and students.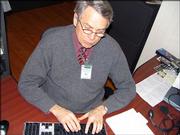 David, Lawrence: My nephew says he was forced to take over 70 hours of general education as an undergraduate in Anthropology. Obviously this is too much and, I checked, it is much more general education than at other universities. As you are stepping away from this situation, if you could personally change the general education curriculum at KU where would you change it?
David Shulenburger: General education is perhaps the most important part of the curriculum. It constitutes the background that equips students to serve the most important role in their adult lives; that is the role of being the informed citizen. It also constitutes the background needed to provide a proper context for their professional lives. We had a taskforce in operation last year that recommended strengthening general education. I fully support their recommendations. The major is clearly important but devoting just over half of the degree time to general education represents appropriate balance for a school like KU. I believe in informed consumers. There are educational options that permit one to specialize from day-one. That is not a KU education. Our graduates are very successful in the professions and many of them have risen to the very top of their professions. I think the KU liberal arts based education has stood the test of time.
Kari: Doesn't it set a bad precedent for the defense of free speech to have the University withdraw the proposed ID course rather than changing instructors (from a "politically volatile" instructor to one less controversial)? Why was this not done, and why has the University not been more proactive in already scheduling a class which deals with ID (like KSU, Emporia, WSU, etc.)?
David Shulenburger: Karl, I assume this question is about Professor Mirecki's course. The decision to withdraw the course was made by Professor Mirecki, not by the University. Our public statements support academic freedom. We have not been reluctant to offer courses that deal with controversial topics in the past and will not in the future. Courses are not scheduled by the University but by faculty through departments. When departments wish to offer such courses they will.
BJ from New Haven: Have you personally viewed any evidence of the bodily harm allegedly done to Dr. Mirecki, and, if so, can you describe if for us?
David Shulenburger: No, I have not seen Professor Mirecki since the incident occurred.
Andy, Lawrence: There's a perception at the university that the top administrative structure is set up so that Chancellor Hemenway gets to play the good cop, and you often get stuck playing the bad cop. Do you agree with that? Is it that way by design?
David Shulenburger: Our jobs are different but I do not recognize the good cop/bad cop roles. The Chancellor deals most frequently with questions of policy and I deal with implementation of policy. We frequently speak on the same subjects. Perhaps the perception arises from the fact that I tend to work more with concrete situations while the Chancellor works with policy.
Tony, Glendale: News reports have been somewhat unclear. Did the Religious Studies faculty ask Professor Mirecki to step down as chair?
David Shulenburger: Professor Mirecki's letter of resignation indicated that the faculty of the Department of Religious Studies preferred that step down as chair of the department.
John from Edwardsville: Why is it that your early statements on the Mirecki matter were so at odds with the facts of the case?
David Shulenburger: John, very simply, they were not. My early statements provided the academic background for the use of the term "mythology" in the course description and indicated my support for our faculty teaching courses on difficult or controversial topics. As e-mails of Professor Mirecki that came out later indicated that his ability to teach the course in an unbiased fashion came to light, I continued to support the need for the course to be taught but agreed with Professor Mirecki's conclusion that he should not teach the course.
Parker, Topeka: As a 3rd generation KU Alumni I have a great deal of pride in my school. However, I am concerned that the present administration doesn't show enough respect for KU's traditions. I am reminded of this most at Christmas time, when a giant Christmas tree used to stand in Strong Hall. How does KU balance tradition with the ever-growing wave of political correctness sweeping the country?
David Shulenburger: Political correctness is in the eyes of the beholder. We strive to make every student, faculty member and visitor to campus feel comfortable regardless of their faith, creed, origin or race. There are clubs for students of all faiths, exhibits that celebrate all faiths and courses that touch on them all. We were recently acknowledged to be an exceptional university in the DEEP report in which all students felt included. The reality does not jibe with your perception. Our students feel the campus is a warm, inclusive environment for them.
Jason, DC/Lawrence: Provost Shulenburger, what is the status of efforts to expand KU's footprint in the areas of bio-med/pharm/general research? Additionally, how do you see these efforts dove-tailing with those of the region (JoCo, Sunflower AAP) as well as private industry? Can we generate a Research Triangle (ala UNC) in Lawrence?
David Shulenburger: I am optimistic about our ability to grow a bio-medical industry in this area. Where such industries have grown, the critical element has always been the strength of University-based research in the area. KU's bio-medical research is thriving at both the Lawrence campus and the medical center. We will complete this year the addition of 50 new faculty members in the bio-medical area and a new 100,000 square foot research facility for bio-medical research which we affectionately called Mr. B will open next week. The Chancellor's public statement that the highest priority for both the Lawrence Campus and the Medical Center is the attainment of National Cancer Center designation indicates the depth of commitment to the goal. The City of Lawrence and Douglas County have agreed to build a wet-lab facility to incubate new companies. The Lawrence Regional Technology Center under the direction of Matt McClorey stands ready to assist new bio firms with their start-up efforts. With all the investment and energy in place, we will succeed in attracting and retaining more bio firms in the area.
Ann, Lawrence: What do you think should happen in order for us to progress toward graduate-in-four? Tougher admissions standards... Easier classes?
David Shulenburger: A task-force returned a report to me this fall with many suggestions about how we might increase the 4-year graduation rate. A significant finding of the report is that our students simply do not enroll in enough hours per semester to graduate in four years. We have already implemented changes in advising to correct that problem. Another finding is that those who enter KU and need to take a remedial math course graduate in 4 with about half the frequency of those who have a good math base on entry. We have begun to strongly advise students to take remedial math in high school or at a community college before they come to KU. We are also asking individual Schools and departments to examine course offering patterns to ensure that it is possible to complete in 4.
Note that over half of the students who march down the hill in May have graduated in four years. It is possible to do so.
Higher admissions standards would lead to a higher 4 year graduation rate. Whether higher admissions standards are desirable for KU is now being examined by a task-force that will report out in April or May. The final decision about admissions standards resides with the Kansas legislature.
Bob, Lawrence: I understand that being Provost is most likely a very demanding and stressful job. In this sort of role, there is only so much stress and workload that one can take in a lifetime. Is this the reason you decided to step down as Provost?
David Shulenburger: I have been Provost for 13 years. The average Provost is in the job for about 4 years. The job is demanding and sometimes stressful. It is also full of rewards as one sees actions lead to improvement in the University and success for students, faculty and staff. It is simply the right time in my life to engage in other activities. I enjoy my colleagues and KU so leaving the Provost's role is hard for me to do but I will find other ways to contribute.
Moderator: That will have to be our last question today.
David, thank you for being our guest today and for taking time away from your day to join us in this online discussion.
I'd also like to thank our readers for their many questions.
Copyright 2018 The Lawrence Journal-World. All rights reserved. This material may not be published, broadcast, rewritten or redistributed. We strive to uphold our values for every story published.