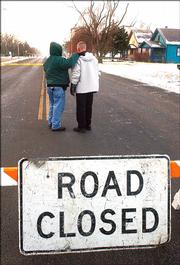 Emporia — An Emporia State University official who was a regular morning jogger died Thursday in a hit-and-run accident, police said.
John A. Blaufuss, 61, of Olpe, was the university controller and also served as interim executive director of university advancement.
Emporia police said they got a report about 5 a.m. of a person lying on the side of the road and emergency responders found Blaufuss dead at the scene. Deputy Chief Mike Williams said an automobile accident caused the death.
The investigation led to the arrest of a 27-year-old Pennsylvania man on suspicion of involuntary manslaughter, but formal charges had not been filed.
John Schwenn, the university's vice president of academic affairs and a close friend of Blaufuss, said his daily routine included jogging.
"He would go jogging very, very early every morning in that area of town," Schwenn said. "He did it every day. In fact, I just talked to him about it yesterday morning."
Schwenn, who worked with Blaufuss for over 10 years, called him a great asset to the university.
"We've lost a wonderful friend to the university and the city of Emporia," said Marjorie Werly, the university's director of public affairs and marketing. "Our thoughts and prayers are with his family this morning."
Copyright 2018 The Associated Press. All rights reserved. This material may not be published, broadcast, rewritten or redistributed. We strive to uphold our values for every story published.