-->
Bruce Flanders can't lie. He has been hurting a little the last few months.
The director of the Lawrence Public Library has been making a host of presentations to community groups talking about the need for a new public library. In the plethora of PowerPoint presentations, there's always one slide that points out how Lawrence's library compares with industry-wide averages.
"It shows that compared to peer cities, we're substandard or at best just average," Flanders said. "It kind of stings a little bit."
The numbers show that Lawrence is at or below the 50th percentile in a host of key categories, including number of books, total circulation, total visitors and number of public computers.
But whatever sting those numbers cause for Flanders, he's able to quickly soothe it these days with another set of figures. Library leaders and consultants have come up with their most specific ideas yet for a new downtown library. They include a library that at 128,000 square feet would be nearly three times the size of the current building, include more than 100 additional computers, and incorporate new ideas such as a drive-up lane and specially designed rooms to keep teenagers interested in reading and learning.
"What excites me more than anything is the promise of a library facility that will satisfy the information needs of the community, and will do it in a way that the community will be proud of," Flanders said.
That is if the community is willing to buy into the idea. Library consultants are in the process of developing the first set of cost estimates to rebuild the library on its current site, and will present them to city commissioners at a study session on Jan. 4.
But consultants do have estimates that show the library's annual operating budget of approximately $2 million will need a hefty increase if a new library is built.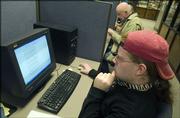 Data gathered by library consultant Jeffrey Scherer found Lawrence spends $26.23 per person for library services. He said industry-wide studies indicate that spending would need to increase to $40.47 per person to maintain a first-class library.
Flanders makes no bones about the fact that most of the increase would need to be funded by tax dollars.
"We need to get into the mindset that we need to spend more money, or else we shouldn't do this at all," Flanders said of an expansion.
Features
But Scherer, who designs libraries across the country, said he believed there were many selling points for a new library.
First, he said, is that there is no doubt that the current library is out of room. He estimates that the library needs an additional 27,000 square feet to adequately house all of the materials it has today and to function in an efficient manner.
"Your collection size is currently maxed out," Scherer said. "One book has to be removed for every book that needs to be put on the shelf. The public is not getting the collection it deserves. And your meeting rooms right now are pathetic."
Under preliminary concepts, the space crunch would be eliminated. Plans call for the area that houses books and seating areas to grow from 24,783 square feet to 50,212 square feet. The library's collection of books would have substantial room to grow. During the next 20 years: adult fiction holdings would increase from 31,237 to 64,780; adult nonfiction from 95,615 to 163,530; young adult from 11,010 to 20,738 and pre-grade school from 80,228 to 145,953.
Meeting room space also would grow from 2,450 square feet to 15,475 square feet. The space would include one large auditorium that could seat 350 to 400 children or up to 200 adults, a small auditorium with 100 seats, two conference rooms of 30 seats each, one staff room that accommodates 30, and six quiet/study rooms that seat four people each. The library currently has a 100-person auditorium and an art gallery that can accommodate 35 people.
The number of computer terminals for users to access the Internet would grow from 47 to at least 142, including four in an expanded lobby that would be used just for checking e-mail, Scherer said.
Flanders said the lack of computers was one of the more glaring deficiencies of the current library. He said the library recently had to implement a policy that limits a person's access to a computer to two 30-minute sessions per day. He said that type of policy ran counter to the library's mission.
"We're here to serve and provide people information," Flanders said. "So when we become so full that we can't provide people full access to information, it really runs counter to all of our instincts."
Other features that are in the concept plan include:
¢ An overall interior design that looks more like a bookstore with large wide aisles to better merchandise available books, and numerous seating areas.
¢ Special teen rooms that would be designed to look like a teen's environment and would include music and possibly a stage.
¢ A drive-thru lane that would allow people to call ahead and pick up a specific book, or perhaps allow users to just tell librarians a specific subject and let them gather recommended materials.
Flanders is estimating that the new library would dramatically increase usage. He said he would plan for an increase in visitors from 550,000 today to 750,000 within two years after the library opened.
"By any standard we're going to see more people in the library, and that ultimately will be the biggest payoff for the community," Flanders said.
Next steps
But it's all dependent on city commissioners, and ultimately the public, agreeing that the multimillion dollar project is worth it. City commissioners will get their most detailed look yet at the concepts at a 9 a.m. Jan. 4 study session at the library.
Flanders will be looking for direction on whether commissioners favor the general concepts, and also whether the city is interested in partnering with members of the development community that have expressed interest in making the library part of a larger downtown redevelopment.
If commissioners continue to show support for the project, Flanders said work to create specific plans showing what a new building would look and feel like could be developed in 2006. Voters likely would be asked to go to the polls and support some sort of bond issue to fund the library in 2007. Construction could begin in 2008.
Copyright 2018 The Lawrence Journal-World. All rights reserved. This material may not be published, broadcast, rewritten or redistributed. We strive to uphold our values for every story published.