Bruce Flanders is ready to take the plunge.
The director of the Lawrence Public Library told a crowd of about 60 people Tuesday afternoon that now is the time to build a new library for the 21st Century.
"We want to think big," Flanders said as part of a forum hosted by the Lawrence Chamber of Commerce. "Over the 10 years that I have been here, it is common for me to think about how we can incrementally improve library services. That's not what I'm doing now. Today we're talking about taking a big leap into the future."
Flanders mainly was preaching to the choir. Specific plans and cost estimates for the expansion haven't been determined, but in the first major public meeting to discuss a possible expansion of the library at 707 Vt., the idea was greeted with enthusiasm.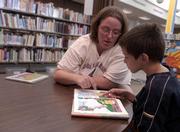 Many in the crowd said they thought it was a project the community would rally around, even though leaders have said it could cost more than $10 million and require a vote of the public to raise funding.
"This project speaks to a fundamental need in the community," said John Nitcher, a Lawrence resident who attended the meeting. "No matter your age or your economic station, the library can and will serve you. It meets a basic need to provide information and insight. In a sense, there's really nothing else like it."
Flanders told the crowd that consultants and Lawrence-based Gould Evans Architects have been hired to begin planning for an expansion. Flanders said the current library site is the only one under consideration for the project.
He said any project needs to include an expanded children and young adult reading area, expanded meeting space, expanded space for collections, additional quiet rooms and reading areas, significantly more computer labs and parking.
"If we can't enhance the parking around the library, then let's not do it at all," Flanders said. "But I think we can come up with a parking solution. I think we can even figure out a way to serve this entire quadrant of downtown with some sort of structured parking or parking garage."
Flanders said he thought it was feasible that the consultant may find the 45,000-square-foot library may need to double or even triple in size. He also said it was possible that the library would need to expand into the parking lot to the south because the 1972 building may not be able to support a number of new stories. City commissioners - who would have to approve any expansion of the library - are scheduled to receive a report from the consultants by January.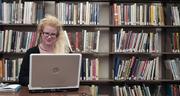 Flanders showed several photos of new "destination" libraries in Columbia, Mo., Fayetteville, Ark., Springfield, Mo., and Topeka to give audience members an idea of what a new library could include. Many of those libraries have cafes, gift shops and book areas that look more like bookstores than traditional libraries.
"We're talking about something that goes well beyond what we thought of as a library in our youth," Flanders said. "We want a destination that has so many amenities and is so enjoyable that people will literally drive miles to go to it."
Any ideas?
Library leaders want to hear what members of the community want in an expanded library. Consultants who have been hired to plan for the project will host a public meeting at 7 p.m. Monday at the Lawrence Memorial Hospital conference, 325 Maine. Similar meetings are expected to be held in October, November and December, although dates haven't been set yet.
Copyright 2018 The Lawrence Journal-World. All rights reserved. This material may not be published, broadcast, rewritten or redistributed. We strive to uphold our values for every story published.