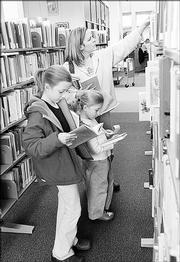 The Lawrence Public Library should provide reading to area residents in more ways than one during the next year.
City residents should expect the library to make news in the coming months as city commissioners dig deeper into the possibility of doubling the size of the facility at 707 Vt.
"I think this is going to be an extremely exciting time for Lawrence and the library," said City Commissioner Sue Hack.
Commissioners earlier this month agreed to spend $50,000 to hire a library programming consultant who will have a series of public meetings - the dates of which haven't been set yet - to get feedback from area residents on the future of the library.
Library leaders already have some ideas for what needs to happen. The library's board of directors has asked the city to consider expanding the 45,000-square-foot library to at least 90,000 square feet. And the board also believes the library needs to remain in downtown, either at or near its current site. Commissioners seem to agree.
"I'm really excited about the project," Mayor Boog Highberger said. "It is something the city is ready for. For many years it hasn't given proper support to its public library. This will give us a great opportunity to fix that and make a great addition to downtown."
The plans for the library, which are being directed by Lawrence-based architects Gould Evans Associates, will include some type of parking garage or structure to relieve the currently crowded parking near the library and the adjacent Lawrence Outdoor Aquatic Center. What's still not determined is whether the project will grow in scope and include a public-private partnership to redevelop other parts of the 600 and 700 blocks of Vermont Street.
Another big question is the project's cost. No official estimates have been given, but leaders have acknowledged it could run more than $10 million. Both library board members and commissioners have said that a public election to authorize spending that amount of money may be needed in 2007 or 2008.
"I think cost is a big issue," said City Commissioner David Schauner. "It won't be inexpensive, I know that. But I also think this is an example of civic commitment."
Other issues that are likely to be hot topics for city government during the coming months:
¢ Affordable housing. Highberger has said he soon will appoint a task force to study ways that the community could improve the affordability of homes in the city. Commissioners have expressed growing concern that many people who work in Lawrence can't afford to live in the city.
¢ New Urbanism. Commissioners have been studying a new concept of how to develop neighborhoods and commercial areas. The idea, called New Urbanism, allows neighborhoods to develop more densely and in a manner more reflective of old-style urban development where different types of uses were mixed, streets were narrower, and there was a greater emphasis on pedestrian travel. Current city codes would make it difficult for builders to develop projects in such a manner.
¢ Wal-Mart: Developers seeking to build a Wal-Mart at the northwest corner of Sixth Street and Wakarusa Drive continue to press ahead with lawsuits against the city, which denied the project. Douglas County District Court Judge Michael Malone heard several motions to end the case but ultimately ruled that the issue should go to trial. No trial date has been set yet.
Copyright 2018 The Lawrence Journal-World. All rights reserved. This material may not be published, broadcast, rewritten or redistributed. We strive to uphold our values for every story published.