Five developers have said they want to partner with the city when it builds a new public library, and any of their plans would dramatically change downtown Lawrence.
Each developer has proposed a different location. Now city commissioners must decide whether they want to partner with a private developer or simply rebuild the aging library at its current site at Seventh and Vermont streets.
"Our first priority is to build a high-quality public library, but if we can also do something to spur a high-quality redevelopment in downtown, we should look at that," said Mayor Boog Highberger.
Bruce Flanders, director of the public library, and a team of consultants declined to divulge names of the interested developers. But the Journal-World was able to speak with them anyway.
Flanders also said the library board had not received specific proposals, but had asked developers to express any interest they might have and identify the general area for their prospective projects.
In, around downtown
The five locations are:
¢ An area surrounding the former Riverfront Mall. Dan Simons, a member of the building's ownership group, confirmed that he told library leaders he was interested in a project that would put the library in the former mall building. Simons said a fourth floor could be added to the building, which fronts the Kansas River and also is home to the SpringHill Suites by Marriott, among other users.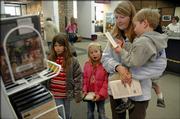 "It could be the focal point of downtown," Simons said. "It would be very visible as you come across the river. It could be beautiful."
Simons said the project could complement plans to build a hotel/convention center/parking garage on property northeast of Seventh and New Hampshire streets. Simons - president of the electronics division of The World Company, which owns the Journal-World and Sunflower Broadband - said discussions were still underway with the John Q. Hammons hotel company to build a convention center. He said he also was in discussions with another company, but declined to release its name.
Simons said other possible elements of the project included loft-style apartments and a grocery store to serve downtown.
Simons also said he thought the project should provide some fiscal savings for the city because the city already owns the ground beneath the former mall and its surrounding parking lot.
¢ An area surrounding the 800 block of Pennsylvania Street. Bo Harris, with Harris Construction, confirmed he also had expressed interest. Harris has property in and around the 800 block of Pennsylvania Street, just east of downtown.
Harris, developer of the Hobbs Taylor Lofts at Eighth and New Hampshire streets, said he hadn't yet developed specific plans for a project that would include the library. He said he first would need to meet with leaders of the East Lawrence neighborhood to judge their reaction. He said if he found a library project wasn't feasible for the area, he might explore the possibility in another area, which he declined to identify.
Harris said the success of his condominium loft project in downtown had left him looking for other opportunities. He said having a library as part of a project that would include condominiums or apartments nearby made sense to him.
"It is another opportunity to bring a mixed-use vitality to downtown," Harris said.
¢ An area including parts of the 800 and 900 blocks of New Hampshire Street. Lawrence developer Doug Compton confirmed he has had preliminary discussions with property owners in the 800 block of New Hampshire Street. Compton - who through First Management Inc. and other companies owns about a dozen downtown buildings - said a mixed-use project with strong residential components excited him.
"I think every one of our plans would include residential," Compton said. "What could be better than living next door or a couple of floors above a public library?"
Potential partners for redevelopment in the 900 block of New Hampshire also could include Martin Moore of Lawrence-based Advanco Inc. Moore is a partner in the Downtown 2000 project that redeveloped large portions of the 900 block. The project - which encompasses the area adjacent to the Lawrence Arts Center - is still seeking additional tenants to fill vacant ground. Attempts to reach Moore for comment were unsuccessful.
¢ The area near 11th and Massachusetts and New Hampshire streets. Compton also confirmed he was exploring opportunities for a redevelopment in that area, which includes several buildings that previously housed operations of Allen Press. The area has been the subject of redevelopment talk the past several years, after Allen Press moved much of its operations to a new East Lawrence facility.
¢ Areas of the 600 and 700 blocks of Vermont Street. This area includes the library's current site at 707 Vt. But the area also extends further north to include the post office location. Lawrence developer Thomas Fritzel has previously said he was exploring redevelopment for the area surrounding - and possibly including - the post office site, though no agreements had been reached. Members of Gene Fritzel Construction also have ownership interests in several other properties near the current library site. Attempts to reach Fritzel for comment were unsuccessful.
Study session upcoming
City commissioners have scheduled a Jan. 4 study session to discuss whether they want to issue an official request for proposals that would result in more specific plans being created by developers.
Commissioners have said their only concern with a potential public-private partnership is the risk the library will become a secondary part of a larger project.
"A partnership could be all right as long as we understand the main focus must be the library and the parking that goes along with it," said City Commissioner Mike Amyx. "I don't want to be involved in building a new library and have all the parking taken up by other users."
Also at the Jan. 4 meeting, commissioners will be shown rough designs for rebuilding the library on its current site. Architects have developed options that would include relocating the Douglas County Senior Center and city Fire Station No. 1. They also have options that would allow both buildings to remain. But challenges presented by those designs include a likely relocation of the library during the new building's construction, and some plans would require digging more than two stories below ground to create a below-ground parking garage.
"A preliminary look at the site tells us it can be done, but it is very tight," said Steve Clark, an architect with GouldEvans, which has been hired to serve as a consultant.
Commissioners also should receive their first estimates for how much it would cost to build a new library at the current site. Jeffrey Scherer, a consultant who specializes in library design, said library leaders were now planning a building that would be 138,000 square feet. The current library has 45,000 square feet. Scherer said he didn't yet have cost estimates for the project.
But City Commissioner Sue Hack said the cost to build any new library project - either on the current site or elsewhere - would be significant and likely would require a public vote.
"It is going to be expensive," Hack said. "This community will need to come to grips with the fact that to have a quality library that we deserve, we're going to have to come up with some money."
Copyright 2018 The Lawrence Journal-World. All rights reserved. This material may not be published, broadcast, rewritten or redistributed. We strive to uphold our values for every story published.