Topeka — There aren't many things people in Lawrence envy about Topeka, but one of them is the Topeka & Shawnee County Public Library.
"The Lawrence library ought to be like the Topeka library," said David Leamon, executive director of the Topeka library. "A town that has a university like Kansas University, that really has a melting pot of people with a broad range of high education levels, they ought to have a library that is more like this because that is what they need."
The differences are numerous.
In Lawrence, the 45,000-square-foot library has 270,000 materials and two meeting rooms, which sometimes double as gallery space. It was built in 1971.
In Topeka, a $23 million bond issue approved in August 1996 was used to renovate the old 68,000-square-foot library and build an additional 100,000 square feet of space. The spruced-up building opened in 2001; first lady Laura Bush visited in early 2002.
The library houses a collection of 640,000 materials, a cafe, art gallery and 10 meeting rooms.
It has become a destination point for the community where thousands of people visit each year to read, work on computers, conduct research or just spend a pleasant afternoon. The library will circulate 2 million books, records, videos and other materials this year. Its meeting rooms were used by 100,000 people last year.
Topeka is larger than Lawrence -- 122,337 people live in Topeka and 80,098 in Lawrence -- and it is the state capital.
Funding is key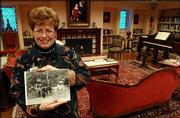 But the biggest difference between the two cities' library systems is money.
The Topeka library is funded through property taxes paid to a countywide library district; the Lawrence library is funded by the city through the city budget process.
The difference is staggering.
Lawrence's library budget is $2.1 million per year; Topeka's, $13 million. Per capita spending on the Lawrence library is $26.23; in Topeka it is $80.52.
"They have a very healthy budget, and a decades-long tradition of funding their library well," Bruce Flanders, director of the Lawrence library, said of the Topeka system. "It's just been a long tradition in Lawrence that the library budget has been held at a very conservative level, which is good in one regard because it lessens the tax burden, but on the other hand we have never been able to excel."
In fact, Lawrence's level of per capita spending -- $26.23 -- falls below the state average of $29 and is far behind what's spent in many other towns. For example, Salina spends $50 per capita; Hutchinson, $46; Manhattan, $44.37; and Johnson County, $43.
"We provide outstanding library service for the funding that we have, but in terms of technology, staffing, collections and programming, Topeka excels in all areas because they have tremendous tax base support to work from," Flanders said. "Their building is pretty much a showcase library building."
One reason often used to justify the second-best financing in Lawrence is the notion the public library may be neglected because many people in the community use libraries on the Lawrence campus of Kansas University. Flanders doesn't buy it and has numbers to back it up.
"In terms of library usage, we are in the 75th percentile of libraries for communities this size," he said.
640,000Materials at the Topeka & Shawnee County Public Library270,000Materials at the LawrencePublic Library$13 millionAnnual budget for the Topeka library$2.1 millionAnnual budget for the Lawrence library$80.52Per capita spending for the Topeka library$26.23Per capita spending for the Lawrence library
A lesson
Leamon said he hoped Lawrence would be able to improve its library because it would improve the community's quality of life and serve as an economic development tool. He got a glimpse of a library's economic importance when he was director of the San Antonio library system.
At the time, he said, city officials were trying to lure Sony Corp. to locate a major operation there. A delegation of Sony representatives visited the main library and didn't like it. Leamon said San Antonio's library then was an old building "built on the cheap."
San Antonio lost the bid for Sony, but the incident prompted officials in San Antonio to quickly ramp up a bond issue to improve the library system.
"The library is the soul of a community," Leamon said.
Copyright 2018 The Lawrence Journal-World. All rights reserved. This material may not be published, broadcast, rewritten or redistributed. We strive to uphold our values for every story published.