It was bitterly cold outside, so Christine Case left her Ford Escort idling in the driveway Monday night when she stopped by a friend's house to pick up some belongings.
Bad move.
"I walk back out and it's gone," said Case, a 20-year-old Kansas University student.
Case is one of at least three people in recent weeks to have a car stolen while it sat idling or warming up in the cold weather. It's a common practice for Midwesterners this time of year, but police say it's not only an invitation to crime - it's against the law.
According to a state law first passed in 1974, a driver can't let a car stand unattended without first stopping the engine, locking the ignition and removing the key. Lawrence Police spokesman Sgt. Dan Ward said the purpose was both to protect the public safety and prevent theft.
The law applies even in people's driveways, Ward said. He cited a case last month in which a woman left her car running, went inside her home and watched as someone climbed into the car to steal it. She tried to stop him, but he drove off.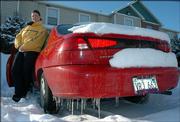 "Even standing back and watching it is probably not a safe thing to do," Ward said.
Municipal Prosecutor Tom Porter said he'd never seen a ticket for leaving a car idling, but he said it likely would carry a $60 fine, plus $42 in court costs.
A change to the state law in 2003 made an exception for vehicles that have a remote starting system, as long as the doors are locked and the keys aren't inside.
Case's car was stolen about 10:55 p.m. Monday from the 3800 block of West 24th Street. It was recovered the next day after an 81-year-old man found it parked in his driveway near Clinton Parkway and Kasold Drive and called police.
From now on, Case said, "if I've got to warm up my car, I'm sitting in it."
She said she thought the state law was a good idea.
"It just makes it harder because it's like 10 degrees outside right now," she said. "It's just something you have to deal with, I guess."
Copyright 2018 The Lawrence Journal-World. All rights reserved. This material may not be published, broadcast, rewritten or redistributed. We strive to uphold our values for every story published.