A storm that left close to a foot of snow in some parts of Kansas and Missouri snarled traffic and closed scores of schools throughout the region.
Snow began falling Wednesday and continued overnight, with snow totals of 6 to 10 inches in many parts of east-central Kansas and west-central Missouri, according to the National Weather Service.
By midday Thursday, parts of the St. Louis region had received more than 2 inches of snow - enough to cause a wreck involving more than 15 cars on Interstate 44 and another on I-44 in the city that involved a school bus. Three kindergarten students were taken to a hospital with minor injuries.
Missouri State Highway Patrol spokeswoman Julie Scerine said many people were leaving work early trying to get home. She said a better plan would be to simply wait for the snow to stop before hitting the highways.
"Take your time," Scerine said. "If you don't have to drive, don't go."
Greg Koch, a forecaster with the National Weather Service office in Pleasant Hill, Mo., said the heaviest band of snow fell from Emporia through Ottawa, along the Interstate 35 corridor into the Kansas City area. Six to 8 inches of snow were common there.
In other areas, snowfall amounts were considerably less, ranging to only about an inch at Kirksville, Mo.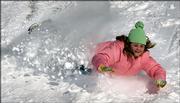 Sedalia, Boonville and Marshall, Mo., all had 3 to 4 inches of new snow, with 5 to 6 inches from Carrollton to Chillicothe.
Slide-offs and fender benders were numerous, and a crash Wednesday morning near Edgerton on snowpacked Interstate 35 in Johnson County killed Norma A. Mendoza, 31, and her 4-year-old daughter, Desirae, of Emporia. Authorities said Mendoza's pickup slid across the median and collided with another vehicle.
Another accident, in Lyon County, killed Robert D. Mullins, 66, of Lecompton. Officials said he died when his van left an icy U.S. Highway 56 northwest of Emporia and struck a tree.
Judy Gilchrist, a spokeswoman for the Kansas Turnpike Authority, said troopers responded to many accidents.
"A lot of people aren't slowing down," she said. "They still want to use their cruise control."
Many motorists stopped at hardware stores and convenience stores for scrapers, de-icers and tubes of sand to provide additional weight for their vehicles.
Larry Barrows, manager of a Westlake Ace Hardware store in suburban Gladstone, Mo., said his supplies were holding up well, except for tubes of sand.
"I ordered truckloads, and they just walked out of here today," he said.
Troy Whitworth, Johnson County area maintenance superintendent for the Kansas Department of Transportation, said crews were laying down a mixture of salt, sand and magnesium chloride on ramps and in some other spots to try to give drivers more traction.
"If you treat everything with that, it'll stick and then you create icy spots, so we're trying to mainly take care of slick spots," he said. "A lot of the stuff is so dry and the temperature so cold that this stuff is blowing right off."
Whitworth said drivers were adapting fairly well to the conditions, although some still were driving too fast.
"It's pretty typical for the first snow of the season," he said. "I think it's like sea legs. It takes a little to get back used to driving on this kind of stuff."
Copyright 2018 The Associated Press. All rights reserved. This material may not be published, broadcast, rewritten or redistributed. We strive to uphold our values for every story published.