James Dunn sometimes wonders if it's worth it.
As a local landlord, he shovels snow from the sidewalks at his own home and at many of his rental properties.
"I do the 50 feet of sidewalk or so that is in front of the house, but then I look around and wonder where the people are going to go from there because a lot of the other sidewalks aren't shoveled," Dunn said.
But by early today, technically every public sidewalk in the city should be shoveled, according to a city ordinance. People who don't have the sidewalks in front of their homes shoveled of the snow that fell earlier this week could face a $20 per day fine from the city's Neighborhood Resources Department.
Several city officials said they saw some of the same situations Dunn did.
"We're a little better at shoveling our sidewalks than we were a few years ago, but we still have a long ways to go," Mayor Boog Highberger said. "It's important because there are a lot of people in this town who depend on walking for their transportation."
Photo Gallery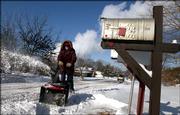 Another Cold Day
Barry Walthall, the city's codes enforcement manager, said his office had received only two calls regarding unshoveled sidewalks Thursday, but he expected more today. Anyone who wants to report an unshoveled sidewalk can call the Neighborhood Resources Department at 832-7700.
Walthall said all property owners, or occupants, were given a warning and five days to remove the snow before the $20 per day fine is assessed by inspectors. Walthall said fines were rare because people usually cleared the sidewalk after receiving a warning.
Volunteers needed
The city and the Roger Hill Volunteer Center operate the Safe Walkways Program to help senior citizens and people who have a disability shovel their sidewalks. Anyone interested in volunteering to shovel snow as part of the program or in need of having snow shoveled can call 832-3338. Applicants and volunteers are asked to register by Jan. 6.
Copyright 2018 The Lawrence Journal-World. All rights reserved. This material may not be published, broadcast, rewritten or redistributed. We strive to uphold our values for every story published.