Kansas City, Mo — Looking for smaller classes and a safer environment, Diane Moore pulled her daughter out of the city's school district four years ago to send her to a charter school.
That didn't just cost the Kansas City school district a student. Because school funding is largely based on the number of students enrolled, her departure cost the district about $7,800 in state and federal money last year.
And with 5,481 students enrolled in charter schools -- about one of every five in the district -- the costs for Kansas City add up quickly. District budget officials estimate the exodus of students to charter schools cost the district $214 million between 1999 and 2004.
Along with what it calls inadequate state funding, the charter losses have left the district scrambling to find $20 million in spending cuts for the upcoming school year. Other urban districts -- from Arizona to Michigan to Ohio -- also are struggling with budget problems aggravated by the loss of students to charter schools.
"We're getting murdered," said Tom Mooney, president of the Ohio Federation of Teachers. Students departing for charter schools this school year cost the Cleveland school district $59 million, the Cincinnati district $38 million, the Dayton district $34 million and the Toledo district $31 million, he said.
Described by advocates as an option for children trapped in failing schools, charter schools receive public money but operate independently of the local public school board. They have fewer restrictions than other public schools, allowing them more freedom in what and how they teach.
Though many charter schools have proven successful, others have been beset with financial management problems, high staff turnover and dismal test scores.
Despite their problems, charter schools remain popular.
"It's too big of a crowd," Moore said of high school her 17-year-old daughter shunned so she could attend classes in the aging building that houses Hogan Preparatory Academy in Kansas City. "There are gangs and shooting and fighting all up there in that school all the time, and I don't care if they have the policemen and everything there. I'm still not happy with the school."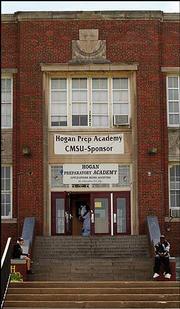 Because charter school laws and state funding formulas vary widely, some school districts take only a modest financial hit when students leave for the experimental schools. But in other states, districts lose most or all the money they would have received to teach the departing students.
That's the case in Missouri. In St. Louis, a loss of about 4,000 students to charter schools, in their fifth year of operation there, will have cost the city's public schools more than $100 million by the end of this academic year, officials estimate.
The enrollment loss contributed to a massive budget shortfall, and the school board last school year brought in a corporate turnaround firm to cut costs. The firm shaved $79 million in expenses by closing 21 schools and eliminating more than 1,400 jobs, both moves met with fierce resistance among parents. More cuts are expected for the upcoming school year.
In Detroit, the schools lost about 9,300 students this school year, a drop officials attribute to charter and private schools, the city's population decline and lower birth rates. That translated into a loss of nearly $67 million in state aid, and the district tentatively plans to close 34 schools and eliminate between 2,000 and 5,000 jobs in the upcoming school year.
Charter school advocates say the loss of funding is exactly what should happen when students leave, arguing the experimental schools create competition that will prompt failing urban districts to make long-overdue changes.
"The districts and the folks who are threatened by their failure want us all to believe that money somehow is leaving the system," said Jeanne Allen, president of the Center for Education Reform, a Washington organization that advocates for charter schools.
"But the system is not where the money is supposed to go. The money is supposed to go to schools to educate students. So the reason that money is moving to different public schools is because parents are choosing to send their kids there. The reason they are sending their kids there is because they are unhappy with the quality of the Kansas City public schools, and they are unhappy with those in Detroit and St. Louis and Columbus."
Indeed, some school districts have taken steps to stop the drain.
In Tucson, Ariz., the public schools are advertising for students. This fall, the district began airing vendor-subsidized television spots and is looking into putting advertisements on school buses. The district, which estimates charter school flight has cost it about $45 million over the last five years, also is considering restructuring some of its schools.
"We have to," said Judith Knight, chief business officer for Arizona's second-largest school district, where 120 teaching jobs will be slashed through attrition and eight elementary schools will share four principals in the upcoming school year. "It's a competitive market, and you have to come to terms with that."
But people like Mooney and Kansas City school district Superintendent Bernard Taylor say it's time to rethink the charter schools.
"If our resources continue to dwindle and the district is cutting back in terms of services, but you have a law that says you can still expand depending on how many people want to open new charters, then it means all we are going to do is take a decreasing amount of resources and have to divvy them up across a broader array of service providers," Taylor said. "Sooner or later you are going to diminish quality simply because no one is going to have enough money to provide a quality service."
Copyright 2018 The Associated Press. All rights reserved. This material may not be published, broadcast, rewritten or redistributed. We strive to uphold our values for every story published.