Moderator: Welcome to our chat with U.S. Rep. Jim Ryun. Ryun's staff has informed us that he is running a little behind schedule. We will begin the chat when he arrives at our offices. Thank you for your patience.
Moderator: Rep. Ryun has arrived. So we'll now start the chat.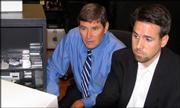 Scott, Lawrence: I am very concerned that we will have a repeat of the 2000 election problems this year's presidential race. What election reform legislation do you support or will endorse, if re-elected?
U.S. Rep. Jim Ryun: Hello! Thank you for taking time to be with me. I've been on the campaign trail today and there was a bit of a delay. I look forward to your questions.
U.S. Rep. Jim Ryun: Scott, thank you for your question. First of all, I sincerely hope we do not have a repeat of the 2000 election problems. To give you an example of what I support, I am firmly behind Florida's decision to begin early voting. Also, I support that our troops stationed around the world can be confident that their votes will be counted.
Julie: What are you doing to save Social Security and Medicare for the baby boomers?
U.S. Rep. Jim Ryun: Julie, thank you for your question today. First of all, I recognize that there is need for reform so that we may ensure that today's retirees as well as members of the baby boom generation will have full social security benefits. Also, I believe that with genuine reforms, we can save the system and provide benefits for those retired and about to retire.
Lauren, Lawrence, KS: Thanks for chatting, Congressman Ryun! I am a recent KU grad and my alumni health insurance will run out in December. I am still looking for work and I don't think I will be able to afford health insurance until I find a good paying job. How will your health insurance proposals assist me should they become law?
U.S. Rep. Jim Ryun: Thanks Lauren for your question. Health insurance is an extremely important issue within the district. I have supported three measures that I believe will help lower the cost of health care. First, Health Savings Accounts would allow individuals to purchase a high deductible, low premium insurance policy with control over costs by allowing individuals to have a tax-free medical account. Second, I have worked on medical malpractice reform. As you may know, frivolous lawsuits drive up medical costs for everyone nationwide. I believe there should be reasonable settlements but not huge payouts that we all wind up paying for. Third, I support Association Health Plans. These plans would allow small and medium sized businesses to band their employees together and negotiate lower health care costs.
Jim, Lawrence: You have been clear that you are against same-sex marriage to the extent you are willing to amend the U.S. Constitution, but what measures do you favor - and will support - that address any concerns of same-sex couples?
U.S. Rep. Jim Ryun: Hi Jim. I support traditional marriage between one man and one woman. I believe that based upon research and experience this offers the best future for our children.
Don in Olathe: Why is HR10, with a national ID card, a national database, finger printing of employees sent to John Ashcroft for approval before being hired for a job a good thing for the people of Kansas? And why did you vote for it?
U.S. Rep. Jim Ryun: Thank you for your question Don. In recalling details of the 9/11, some of the recommendations were included in HR10. A national ID card was not included in this resolution. Unfortunately, misinformation about this bill continues to circulate. If you would like more detailed information on HR10, I would recommend that you contact my congressional office at 785-232-4500. Thanks!
Lunn, Lawrence: When were you drafted? From what draft board and city? Where did you take your government pre-induction physical? When did you take it? Were you married when you were drafted?
U.S. Rep. Jim Ryun: Hi Lunn. Thanks for your question. I was drafted in the summer of 1970 and reported for my pre-induction physical in the summer of 1970 in Kansas City, Missouri. With regard to being married at the time, yes I was. I was married to my wonderful wife Anne. Upon completion of my physical, I was notified that I was disqualified from serving my country due to a serious loss of hearing from a childhood fever caused by the measles. Unfortunately, my opponent has chosen the low road in this campaign and she has decided to make my disability a political issue. I would prefer to talk about issues important to the Second District.
Peter, Lawrence: Why would you be opposed to ban assault weapons?
U.S. Rep. Jim Ryun: Thank you Peter. There's a lot of talk about this issue lately! Most of the weapons people associate with the assault weapons ban were banned before the assault weapons legislation was passed. Weapons like uzis and AK-47's were already illegal and will remain illegal now that the ban has expired.
Moderator: This will have to be the last question. The congressman needs to leave shortly to get to another appointment.
U.S. Rep. Jim Ryun: Thank you for your questions today. If you would like further information about legislation, you can contact my federal staff in Topeka at 785-232-4500. If you have campaign-related questions, don't hesitate to call my campaign staff at 785-273-8901. By the way, the campaign website provides a lot of valuable information: www.jimryun.com.
Copyright 2018 The Lawrence Journal-World. All rights reserved. This material may not be published, broadcast, rewritten or redistributed. We strive to uphold our values for every story published.