The crisp, cool air has rolled into Lawrence, signaling the start of the fall-decorating season.
It is time to throw out those leggy potted petunias and dried-up verbena with glorious colorful mums and asters. Homeowners are replacing the houseplants on the front porch with brightly colored squash and pumpkins surrounded by Indian corn and carved jack o'-lanterns.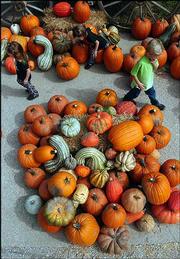 Pendleton's Country Market, 1446 E. 1850 Road, and Schaake Pumpkin Patch, 1791 N. 1500 Road, provide decor inspiration for the fall.
Pendleton's, along with Free State Brewing Co., organized the weekend Fall-for-All Festival, which began Saturday and continues from 9 a.m.-5 p.m. today.
The market is bursting with dried flowers, jarred salsas, jams and chutneys, perennials and herbs, many ornamental gourds and naturally plenty of pumpkins.
"Some people want giant pumpkins," said Karen Pendleton, who owns Pendleton's Country Market with her husband, John. "Myself, I like to decorate with a gray pumpkin, an orange one, pumpkins that are not quite ripe and are still slightly green. I look for colors and autumn aspects to decorating rather than leaning towards the jack-o'-lantern motif."
The festival will feature veggie hot dogs, bratwursts and beer. A trike track, gourd tunnel, scarecrow making and pumpkin painting are events planned for children.
There are plenty of pumpkins at the 24-acre pumpkin patch at Schaake's.
"We have 36 varieties of pumpkins in all different shapes and sizes and colors," said Janet Schaake, who owns the pumpkin patch with her husband, Larry. "Our biggest pumpkin this year weighs 355 pounds. We take our guests on a hayrack ride and people get off and pick their own pumpkins. With all of the great moisture this year we have a really wonderful crop."
October is a perfect time for families to visit pumpkin farms, enjoy arts and crafts and relax.
Halloween hint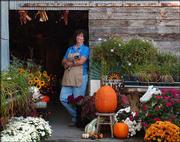 When carving a pumpkin, sprinkle the lid of the jack-o'-lantern and sprinkle with cinnamon. While the candle warms the lid, a pleasant pumpkin spice aroma fills the air.

Pumpkin facts
The world's largest pumpkin weighed 1,029 pounds.
Pumpkins are fruits. They belong to the cucurbitaceous family, which includes cucumbers, melons, squash and gourds.
Pumpkin flowers are edible.
Pumpkins are rich in vitamin A, vitamin B and potassium. Low in calories, fat and sodium, they are high in fiber. The seeds are very high in protein and are an excellent source of vitamin B and iron.
Here's a look at area venues that have fall produce and plants:Hamill's Country GardenPhone: (785) 594-7535Address: 1236 N. 100 Road, BaldwinE-mail: countrygardens@grapevine.net.What's there: perennials, herbs, garden produce, gourds, pumpkins, mums, pansies.Hours: 8:30 a.m.-6 p.m. Monday-Saturday; 1 p.m.-5 p.m. SundayGary's BerriesPhone: (785) 246-0800Address: 5991 17th St., GrantvilleE-mail: garystarr@bigfoot.comHours: 4 p.m.-10 p.m. Tuesday, Wednesday, Thursday; 4 p.m.-11 p.m. Friday; 10 a.m.-11 p.m. Saturday; 1 p.m.-6 p.m. SundayWhat's there: corn maze, pumpkin patch, hayrack ridesGarrett's Market PatchPhone: 841-4085Address: 1563 Highway 40Hours: 9 a.m.-6 p.m. Sunday-SaturdayWhat's there: pumpkins, gourds, sweet peppers, apples, tomatoesFree State FarmPhone: (785) 841-1265Address: 1431 N. 1900 Road, LawrenceE-mail: vvcountryinn@aol.comWeb site: www.freestatefarm.comHours: 9 a.m.-6 p.m. Sunday-Thursday; 9 a.m.-9 p.m. Friday and Saturday.What's there: pumpkin patchPendleton's Country MarketPhone: 843-1409Address: 1446 E. 1850 Road, LawrenceWeb site: www.pendletons.comHours: 8 a.m.-5 p.m. Monday-Saturday; noon-4 p.m. Sunday.What's there: dried flowers, fall decorative items, event flowers, hardy mums and other perennialsSchaake's Pumpkin PatchPhone: 843-2459Address: 1791 N. 1500 Road, LawrenceWeb site: www.schaakespumpkinpatch.comHours: 9 a.m.-6 p.m. Sunday-SaturdayWhat's there: pumpkins, Indian corn, gourds, squash, corn shocks, straw, other fall decorating items; hayrack rides and hay mazeZimmerman's Kill Creek FarmPhone: (913) 583-1811Address: 9210 Kill Creek Road, De SotoHours: 10 a.m.-6 p.m. Saturday and SundayWhat's there: pumpkins, living history demonstrations
Copyright 2018 The Lawrence Journal-World. All rights reserved. This material may not be published, broadcast, rewritten or redistributed. We strive to uphold our values for every story published.