Kansas City, Mo. — Police say a man bit an officer and his dog Friday after trying to stiff a cab driver of his fare.
Mark A. McClarty, 28, of Kansas City, Kan., was charged Friday with assaulting a police officer, resisting arrest and stealing.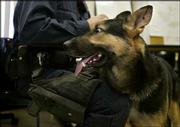 Capt. Rich Lockhart said a cab driver told a police officer at 2:15 a.m. that someone had refused to pay a fare. When the officer found the man nearby and tried to stop him, Lockhart said, the man spun around and punched the officer.
Lockhart said the officer used a remote control to release his police dog from the patrol car, and the dog joined the fight. After the dog bit the suspect, the man bit back and nearly took off the dog's ear.
The suspect also bit the policeman's hand.
The officer was treated at a hospital, while the dog's ear was reattached by a veterinarian.
Copyright 2018 The Associated Press. All rights reserved. This material may not be published, broadcast, rewritten or redistributed. We strive to uphold our values for every story published.