Wichita — Seven hunters who admitted they shot two endangered whooping cranes in Stafford County say they mistook the endangered birds for sandhill cranes, a U.S. Fish and Wildlife Service agent said.
Farmers found the injured cranes Saturday three miles west of the Quivira National Wildlife Refuge in south-central Kansas. One crane died Wednesday at Kansas State University Veterinary Medical Center in Manhattan; the other is still recovering from its injuries.
U.S. Fish and Wildlife Service agent Kenny Kessler said Wednesday that seven men, all from southwest Kansas, have confessed to shooting the birds. Authorities interviewed the men Tuesday based on leads, Kessler said.
Charges have not been filed, and authorities won't release the hunters' names until the U.S. Attorney's office in Wichita reviews the case, Kessler said.
Someone convicted of killing an endangered species such as the whooping crane could be sentenced to up to a one year in prison and could be fined up to $100,000.
The hunters told authorities it was early morning on the opening day of goose and sandhill crane season when they shot three whooping cranes, wounding two. The men said they thought the birds were sandhills and they believed the birds would survive after watching them fly off.
Jim Kellenberger, a hunting education instructor and retired game warden, said the conditions weren't an excuse for shooting the birds.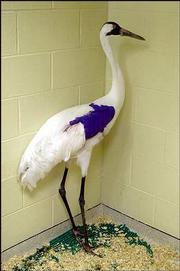 "We teach all the kids in hunter education that you have to identify the target before you pull the trigger," Kellenberger said. "If you can't ID something, you just don't shoot."
The surviving bird could be shipped to a captive breeding facility in Maryland once its health is stabilized. It suffered a broken wing, which was operated on Sunday morning.
The other whooping crane's leg was amputated.
The cranes were part of a flock of about 230 that migrates from Canada to Texas each winter.
At 5 feet tall, whooping cranes are North America's tallest birds and one of the world's rarest.
Copyright 2018 The Associated Press. All rights reserved. This material may not be published, broadcast, rewritten or redistributed. We strive to uphold our values for every story published.