Wichita — Maryland resident Ron Curtis was disheartened when he traveled to his ancestral roots in Weir last year to find what was once called the "colored cemetery," where his great-great grandparents were buried.
All the gravestones were long gone. Three generations of farmers have raised cattle and crops over the graves.
"Why did they do this? Why couldn't they have at least sectioned it off and farmed around the cemetery?" Curtis said. "They could have tried to respect the deceased there or the memory of our ancestors."
His great-great-grandparents, John and Amanda Watkins, were former slaves who moved to Weir, in Cherokee County in the southeast corner of Kansas, from Alabama in 1899 or 1900, enticed by advertising handbills seeking black coal miners. The handbills touted it as "a paradise for colored people." The pay was $1 per ton of coal, with payday twice a month in cash.
They came by train in crowded box cars. Many blacks who got to Weir found no company housing available, and often were not paid as promised, he said.
"They were treated less than human," Curtis said. "Several families shared cramped quarters."
His grandfather, who died in 1924 in Crawford County, was brought back to Weir to be buried next to his wife. Amanda Watkins died in 1906 shortly after the family came to Weir. Their daughters, Millie Odell Watkins and Lillie Watkins, and four grandchildren, William, Lena, Austin and Maggie Watkins, are buried there.
'Appreciation and respect"
Wichita resident Norma Tolson, a black woman who grew up in Weir and is writing a book on the desecration of black cemeteries in southeast Kansas, has made the reclamation of her hometown cemetery a personal crusade.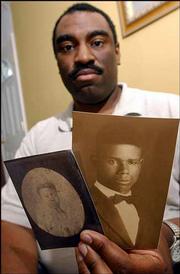 "It is just a form of showing appreciation and respect for these people who were discriminated against when they lived, and the same thing happened to them when they died," Tolson said. "The discriminatory practices followed them from life to death."
Although Tolson has no relatives buried in Weir, she said cemeteries are important for black families trying to trace their heritage, particularly since slavery made genealogical research difficult.
Tolson so far has succeeded in getting a deed to the cemetery signed over to the county from Kansas City, Mo.-based Central Natural Resources Inc., the corporate descendant of the coal mining company that once ran one of the Weir mines.
She has also enlisted the help of Peer Moore-Jansen, an anthropology professor at Wichita State University. Moore-Jansen and six students helped her survey the cemetery earlier this month and located some of the graves and artifacts, she said.
Plans for site
Tolson is still collecting names of people buried there, hoping to contact relatives and raise money to put a plaque on the site. And she is trying to get money to put in an access road.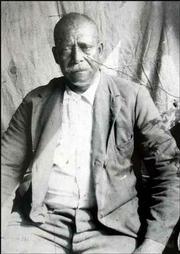 "It is exciting she is doing something about it now," said Curtis, of Glen Burnie, Md. "I am interested in seeing how far her efforts will take her."
Among the mysteries at the site is what happened to the headstones.
Tolson said anthropology students have found what may be broken remnants that they plan to test. Wooden markers probably long ago deteriorated.
People who may have family members buried at the old black cemetery in Weir can contact Norma Tolson at (316) 262-6626 or by e-mail at nyuvon@aol.com.
Curtis vaguely recalled family stories that the headstones were set out by the road for families members to pick up.
A copy of the 1936 deed to the property farmed by Paul and Amelia Poznich and their descendants specifically excluded the cemetery site. The Poznichs' grandson, George Poznich, could not be reached for comment.
But he told The Associated Press last year that his father had died a year earlier. His grandfather, who bought the land originally, died in 1972. Poznich said at the time he had never seen any traces of a cemetery when he farmed the land.
As word of her crusade in Weir has spread, Tolson has received tips about forgotten black cemeteries throughout southeast Kansas.
"It is important the young people know what sacrifices have been made," Tolson said. "It is important to me to show my appreciation for what my forefathers have done to make me be able to accomplish where I am today."
Copyright 2018 The Associated Press. All rights reserved. This material may not be published, broadcast, rewritten or redistributed. We strive to uphold our values for every story published.