Topeka — If you do the crime, you'll be online.
State officials Tuesday opened online access to hundreds of thousands of criminal records of people convicted in Kansas.
The records dating to 1939 already are public documents, but they had been retrievable only through a manual process that could take as long as three weeks.
Now many of those records are available at the click of a computer mouse and a fee of $17.50 per record.
"Hopefully it will be a great benefit to a number of Kansans," Kyle Smith, spokesman for the KBI, said as law enforcement officials unveiled the new service.
Smith said he expected employers would use the service to conduct criminal background checks of employees or applicants, and everyday Kansans would use it to check out people in their lives from baby sitters to boyfriends or neighbors.
The records, sometimes called "rap sheets," also are used by some to conduct genealogical research and other personal endeavors, he said.
The $17.50 fee per record will offset the initial $30,000 start-up cost, the eventual transfer of more than 700,000 records to the system, and the staff it takes to maintain KBI's repository of criminal histories, Smith said. Agencies that provide direct care to the children, elderly and the disabled would receive a discount and pay $12.50 per record.
About half of the records are now online as the KBI continues working to transfer its total collection to the automated system. The remaining records can be accessed through written requests, which cost $15 per record search. More than 60,000 requests for criminal histories are made each year by people not affiliated with law enforcement agencies or the courts.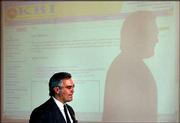 David Sim, administrator of the KBI Records Section, said the demand for criminal records was increasing and people wanted them faster.
"They want that information and they want it now," Sim said.
Kansas becomes the 10th state to have its criminal records online, officials said. Sim said fees in other states ranged from $3.50 to $30 per record.
In Kansas, only convictions and charges within the past year that haven't been resolved will be available through the searches.
Records that will not be released include arrests that don't result in a court conviction, successfully completed diversions, expungements and juvenile-offender data.
Although public documents, the KBI warns that people can be prosecuted for misusing the records, such as using the records in a way to injure or hurt the subject of the record or to justify an adverse action against the person without allowing that person to respond to the record.
And the department warned that even if the search turned up nothing, the user still would be charged $17.50.
Though revenue from background checks could increase, Smith said, it was doubtful KBI would reap any windfall. He said whenever fee revenues increase, legislators soon reduce the general tax revenues set aside for the KBI.
Copyright 2018 The Lawrence Journal-World. All rights reserved. This material may not be published, broadcast, rewritten or redistributed. We strive to uphold our values for every story published.