There's no street named Easy Street in the myriad of roads and boulevards at Westwood Hills or Hutton Farms, a pair of new subdivisions that recently hit the Lawrence housing market.
Instead, Easy Street is more of a state of mind in the two west Lawrence neighborhoods. Developers say the neighborhoods are part of a national trend for easier living.
"If you are going to be successful in the development and home-building business, you have to know your demographics," said Pat Flavin, president of Lawrence Realty Associates and a developer of the Westwood Hills neighborhood. "The demographics right now are screaming baby boomers and aging baby boomers. And what they want is a lifestyle adaptation."
They want less and more. They want less lawn mowing, painting and gutter cleaning. But they want more open space, walking trails and their everyday needs closer at hand.
Westwood Hills and Hutton Farms aim to meet those desires.
Westwood Hills is a 150-acre subdivision north and west of Sixth Street and Wakarusa Drive. When completed in the next six years, it will have a mix of 350 townhomes and single-family houses.
Hutton Farms is a 40-acre, gated, all-rental neighborhood at the northwest corner of Kasold Drive and Peterson Road. When completed by the end of this year, the development will have 212 townhomes and single-family homes. The project is being developed by DFC Co., which is led by Lawrence businessman Thomas Fritzel.
The neighborhoods are among the most recent developments tapping into the easy-living trend. But others are in the works. Developers of the city's new condominium projects -- the Hobbs Taylor Lofts in downtown and the VillaNiche in West Lawrence -- have cited the trend as the driving force behind their projects.
'Enjoying the nest'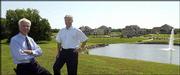 Changes in the workplace are behind the trend, developers said.
"People put in long hours at work," said Paulette Teague, senior property manager with Hutton Farms. "If it is not physically, it is mentally stressful. When they come home from work they don't want to work anymore."
That's why "maintenance free" has become a buzz phrase in the housing industry. Hutton Farms and Westwood Hills are promoting maintenance-free options.
Hutton Farms is an exclusive rental community, so the maintenance work -- everything from plumbing repairs to lawn care -- is done by a maintenance staff employed by the developer. The maintenance fees are part of the rent, which ranges from $750 per month for a one-bedroom townhome to about $1,700 for a four-bedroom, single-family home.
"They just call the office and tell us what needs to be done and they're done with it," Teague said. "They don't have to be bothered by it."
At Westwood Hills, homeowners belong to a home association that collects monthly fees and uses them for maintenance expenses. Flavin said there were several options for homeowners to choose. Everyone in the development pays at least $75 per month to maintain the neighborhood's overall appearance, but homeowners can choose various maintenance plans. The most expensive plan is $300 per month, which includes almost all outdoor maintenance such as lawn mowing, snow removal, painting, roof work and gutter cleaning. Housing prices are in the $200,000 range for townhomes, the $300,000 range for single-family "villas," and the $400,000 range for larger "executive estates."
Flavin said very few potential buyers have balked at the homeowners dues, but rather have viewed them as a selling point.
"We have a plan where if it is on the outside of their home, they really don't have to worry about it," Flavin said. "That's what people are looking for. They want to enjoy their nest and that means they don't want to spend their time dealing with maintenance issues."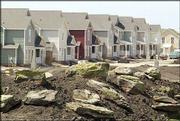 That's especially true for baby boomers, said Ann Russell, who moved into Westwood Hills about a month ago with her husband, Bob. The couple's children are grown and have left the house. Ann Russell said she and her husband are looking for a simpler life.
"We wanted to downsize," Ann Russell said. "We like the idea of just being able to shut the door and go travel and not worry about the house."
Staying home
The property attracts more than empty-nesters. Ryan Robinson, along with his wife and two young children, chose to live in the Westwood Hills area.
"I think people are looking for their homes to be more of an oasis, and that's what this kind of feels like," Robinson said.
He said he was drawn to the area because of its park-like feel. When it is completed, the development will have seven ponds, two miles of walking paths, a multiuse sports court and an outdoor swimming pool.
"This fits us well because we like to stay home a lot more now than we used to," Robinson said. "It will be nice to walk to the pool or the basketball court. We do a lot more around the neighborhood instead of packing up all the kids and going to the lake."
Both Westwood Hills and Hutton Farms are designing their neighborhoods with the "near at hand" philosophy in mind. Flavin said Westwood Hills eventually will have a three-acre neighborhood commercial center that will include services like a small cafe, a post office and a hair salon.
Hutton Farms incorporates many of the same park-like features in its development, with a large pond, a swimming pool and about 1.5 miles of walking trails. But the development also will include a fitness center, a clubhouse and even two car washes. Other amenities are being considered, such as a service that will pick up and deliver residents' dry cleaning.
"We want to make their lives easy," Teague said.
Copyright 2018 The Lawrence Journal-World. All rights reserved. This material may not be published, broadcast, rewritten or redistributed. We strive to uphold our values for every story published.