For eight years, the Science Fiction Hall of Fame existed only on a plaque in a Kansas University office.
Now, the hall has moved to the new $20 million Science Fiction Museum and Hall of Fame in Seattle that organizers hope will serve as a mecca for sci-fi fans everywhere.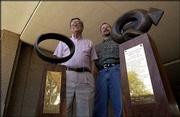 "The science fiction museum represents a significant opportunity to upgrade the venue, which brings more honor to the award," said James Gunn, a KU professor who helped found the hall of fame. "They have the resources and platform to give a greater promotional effort on its half than we could."
The hall of fame was founded in 1996 as a joint venture of the J. Wayne and Elsie M. Gunn Center for the Study of Science Fiction at KU and the Kansas City Science Fiction and Fantasy Society.
The hall each year inducts four members -- two alive, two posthumously -- during KU's annual Campbell Conference, part of the Writers Workshop in Science Fiction and Intensive English Institute.
This year's presentation, scheduled July 9, will be the last time for the ceremony to take place at KU.
After that, the presentation will occur at the museum, which opened Friday. The remainder of the KU science fiction conference will stay put in Lawrence.
Gunn said those planning the Science Fiction Museum and Hall of Fame in Seattle called him in October, seeking to move the hall there. Paul Allen, the Microsoft Corp. co-founder who bankrolled the museum, initiated the request.
Gunn, who serves on the board of advisers for the museum, visited the site in May when it was near completion. He said the inductees' names were featured on a wall with their photos.
"It's really quite an effective presentation," he said. "It's going to be a centerpiece for science fiction."
Gunn, who has written or edited nearly 40 novels and other books about science fiction, said the museum would give new credibility to the literature he's spent his life studying.
"This tends to validate science fiction's position in the literary spectrum," he said. "Science fiction has struggled along most of the last century with a reputation of being a paraliterature."
Copyright 2018 The Lawrence Journal-World. All rights reserved. This material may not be published, broadcast, rewritten or redistributed. We strive to uphold our values for every story published.