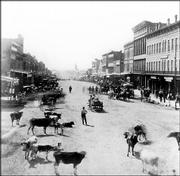 The dark and bloody history that gave birth to the state of Kansas can now be viewed from the safety and comfort of home.
A new Web site, Territorial Kansas Online, takes history buffs, teachers and students on a cyberspace ride back to the 1850s to "Bleeding Kansas."
Here are a few Kansas facts for Kansas Day¢ 1854 - Kansas Territory founded.¢ Jan. 29 - President James Buchanan signs the law making Kansas the 34th state in 1861.¢ 4 - Attempts at writing a state constitution for ratification by Congress before succeeding.¢ 20,000 - Kansans who fought for the Union during the Civil War.¢ 82,282 - Square miles, geographic size of Kansas; ranked 15th among the states.¢ 4,039 - Height in feet of Mount Sunflower, the highest point in Kansas.¢ 1986 - Year that Kansas adopted the ornate box turtle as the state reptile.¢ 2 - Number of Kansas governors who have been women.
Images, documents, maps, newspaper and magazine articles are free for the viewing at www.territorialkansasonline.org.
The site is being unveiled today in Washington, D.C., as part of festivities marking Kansas Day, the anniversary of the date in 1861 when Kansas was admitted into the Union.
"It's an incredible site," said Paul Stuewe, a history teacher at Lawrence High School. "It's an example of how technology can bring history to us in this technological age."
The Web site was developed during a three-year period in a joint effort by the Kansas State Historical Society and the Kansas Collection at Kansas University's Spencer Library. It was made possible by a grant from the Institute of Museum and Library Services.
The Web site is a virtual repository of territorial Kansas history that contains more than 2,000 primary-source documents. All deal with the Bleeding Kansas years of 1854 to 1861 before the Civil War ,when the territory was a battleground between abolitionists, such as John Brown, and pro-slave advocates, such as William Quantrill.
"It was one of the most challenging things I've worked with in my professional career and one of the most worthwhile," said Sheryl Williams, curator of KU's Spencer Library, who coordinated the project with Patricia Michaelis, director of the library and archives division at the Kansas State Historical Society in Topeka.
Although the Web site is accessible now and was previewed earlier this month by Kansas legislators, it will be formally launched during today's reception sponsored by the Kansas State Society of Washington, D.C. The group is made up of Kansans living in Washington.
The Web site comes on the 150th anniversary of the birth of Kansas Territory and was developed with its use by middle school and high school students uppermost in mind, Williams said. Stuewe already has put it to use in his classes. The site is a major benefit to students who can't easily go to the Historical Society in Topeka or Spencer Library.
"The beauty of this is they can work on papers at 1 o'clock in the morning if they want and they have those primary resources that they can call up and use," Stuewe said.
The Web site even has lesson plans pertaining to online documents such as letters, diaries and nearly 200 photos and illustrations. Among those images are a copy of a letter from President Abraham Lincoln to the city of Osawatomie declining an invitation to attend the organization of the Kansas Republican Party and a wanted poster for two runaway slaves.
Other pages on the site include a timeline of major events and an alphabetical subject search.
"We wanted to select the best of what we thought would serve teachers and secondary students," Williams said.
The site could grow in the future if additional materials are determined necessary, Williams said.
Several activities are planned today and Friday in Topeka to celebrate Kansas Day.Today at the Capitol, events include Kansas storytellers; territorial days actors; House and Senate chamber tours and the state library's glass floor; and exhibitors. Hourlong sessions begin at 9 a.m., 11 a.m. and 12:30 p.m. Also:¢ A state birthday celebration at 10 a.m. will be in the second floor rotunda.¢ Gov. Kathleen Sebelius will sign a Kansas Day proclamation at 12:45 p.m. Afterward, the Governor's Office will play host to an open house.¢ At the Kansas History Center, 6425 S.W. Sixth Ave., the State Historical Society will celebrate with programs about pioneer women and American Indian culture. Children also can participate in games and crafts. The first activities start at 9:30 a.m.¢ Friday, the Kansas Insurance Department, 420 S.W. Ninth St., will have an open house from 1 p.m. to 3 p.m.
Copyright 2017 The Lawrence Journal-World. All rights reserved. This material may not be published, broadcast, rewritten or redistributed. We strive to uphold our values for every story published.