Design is all about color for Jay Jeffers -- pungent, unapologetic tones straight out of a box of truffles.
At one point, the 10-foot-tall walls in his master suite had been painted a pallid blue. It took half a year and countless forms, but when Jeffers was through with the 12-by-15-foot space, it was a rich pot of chocolate brown with a squeeze of lime, lots of lime. These days, the sunny space still is coated in the soothing dark brown but tropical pinks and citrus tones that are Jeffers' trims of choice.
Tucked away in San Francisco's Eureka Valley, the interior designer's circa-1915 Edwardian is in a constant state of stylish flux. That's not to say it's ever in disarray (there will be none of that), but it is remodeled often, he readily admits, to match his current whim.
In addition to his cosmopolitan interiors, Jeffers, 35, is known for his curating savvy, his custom furniture designs and his funky flea market finds. His dining room chairs are fashioned out of metal French garden chairs, which he painted white and upholstered with brown patent leather. Jeffers likewise designs custom pieces for clients, including a Gio Ponti- inspired armchair, rift-cut oak case goods and upholstered furnishings dressed in bold Galbraith & Paul textiles.
"It's all about sophisticated fun, about creating a space where you can entertain friends or business associates," says Jeffers, founder of Jeffers Design Group. "It's also about attention to detail, about picking the right pieces -- new and old -- and about design that doesn't take itself so seriously."
Jeffers launched his San Francisco studio in 1999 -- the same year he was deemed one of "Seven Brave New Talents" by the San Francisco Chronicle. In his fourth year on his own, the charming designer is hitting a hip stride with a new Los Angeles office and a full plate of residential and commercial projects.
Dallas-bred, Jeffers toured the grand old mansions of the South as a child. By age 8, he'd designed his first house. He attended the University of Texas before moving to the San Francisco area in 1993. Jeffers studied design at UC Berkeley and began working in media relations for Gap Inc., before returning to his first love: interior design. He worked at Richard Witzel & Associates where he quickly built a reputation for creating spaces that were debonair, witty and at ease. His friendly, clean approach eventually earned him a slot in House Beautiful magazine's top 15 young designers in October 2002.
Jeffers' current projects include properties in San Francisco, New York and Boca Raton, Fla., and a beach house in Capitola, Calif. The designer likewise takes on commercial spaces, including spas in San Francisco and Florida. Two years ago, he began working with Tracy Chapnick and her husband, Josh Cohen, on their two-story townhouse inside San Francisco's North Beach Malt House. The space may have been located in a historical building, but inside it was admittedly lacking in character.
"Everything was new," says Jeffers. "So from that standpoint, it was a blank slate."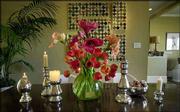 Jeffers combined retro pieces, personalized art (including vintage bathing suits framed and hung) and walnut-stained floors to create a colorful, comfortable home with the look of a dapper boutique hotel. These days, Jeffers is designing a nursery for the couple, whose first baby is due in the spring.
"There is cohesiveness about working with the same designer over time," says Jeffers, who was recently featured on HGTV's "Sensible Chic" design show, leading viewers on a tour of Chapnick's home. Unlike other designers, Jeffers needs "to design the whole house -- not just bits and pieces -- otherwise it doesn't work."
Jeffers hopes one day to design a signature line of fabrics. For now, he is riding the wave of what he sees as a warmer trend taking over American's long-standing love with Vintage Modern.
"It's been so clean for so long that elegance and pretty things are going to be coming back in. I'm sure of it."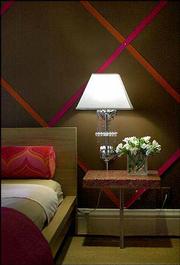 Copyright 2018 The Lawrence Journal-World. All rights reserved. This material may not be published, broadcast, rewritten or redistributed. We strive to uphold our values for every story published.