Salina — The 14 attendants stood in two straight lines between Kenia Esparza and her father, Leonardo, as father and daughter completed the last dance of her girlhood.
The attendants, seven girls on one side (called damas) and seven boys on the other (chambelans) each clutched a single red rose. When father and daughter finished their dance, Leonardo collected the roses and gave them to his only daughter, who had her own rose. Then Kenia presented the 15 roses to her mother, each one representing a year of Kenia's life.
In presenting the roses, Kenia was thanking her mother for the gift of life.
Among the more than 200 people gathered to watch the ritual, many were in tears at this moment. It was the high emotional point in a daylong celebration of tradition and transition known as a Quinceanera.
Rite of passage
Quinceanera comes from the Spanish "quince" (fifteen) and "anos" (years). A rite of passage for 15-year-old Hispanic girls, similar to a debutante's "coming out party," it is a community and family celebration full of symbolism and meaning. Symbolically, it is a coming-of-age ceremony.
The Quinceanera celebration also is intended to reaffirm the young girl's religious faith, good morals and the virtues of traditional family values. Other than her wedding day, there may not be a more important day in a Hispanic girl's life.
"I've been in three or four Quinceaneras before, but I'm excited to have my own," said Kenia, a high school freshman.
For Leonardo and Lucia, Kenia's mother, there was no question that Kenia, their only child and only daughter, would be given the biggest Quinceanera possible.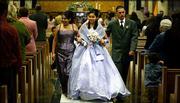 "When I turned 15, I didn't get to have a Quinceanera," said Lucia, who works as a housekeeper in Salina. "But Kenia is our only child, and we wanted to make sure this day was special for her."
Kenia's Quinceanera was held earlier this month on her 15th birthday.
Selecting attendants
Kenia's journey from childhood to maturity began early -- 6 a.m. to be exact, when she had her hair styled. Then came a long process of applying makeup and putting on the dress she would wear for Mass and the reception and dance.
The light purple billowing dress was a cross between a prom dress and a wedding gown.
As she prepared for the 2 p.m. Mass, Kenia reviewed the symbolism and traditional importance of the Quinceanera, which she had learned in a series of five preparatory classes at her church. One of the most important things Kenia had to do was select seven damas and seven chambelans to participate in a traditional procession, waltz and tango at the reception.
Also flanking Kenia as she walked down the aisle at Mass were the padrinos (godparents). For her godmother, Kenia selected Maribel Panupo, a close friend of the family.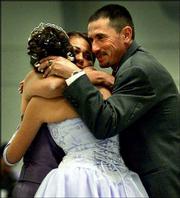 Panupo said that while she has participated in several Quinceaneras, Kenia's ceremony probably is most special to her.
Mass traditions
At the Quinceanera Mass, the invited congregation stood as Kenia was introduced along with her attendants, parents, godparents and flower bearers. Kenia sat at the foot of the altar, flanked by her "court," as the presiding priest, Father Carlos Ruiz, gave a specially prepared sermon.
"Besides the obvious change from child to adult, the purpose of the Mass tells them they must be willing to take more personal responsibility for fulfilling their duties as Christians," Ruiz said.
During the ceremony, the 15-year-old usually is presented a series of symbolic gifts from her family, friends and sponsors. These may include a tiara, symbolizing that she is a princess before God; a bracelet, representing the unending circle of life; earrings, a reminder to listen to God's word; and a Bible, cross and rosary to represent religious faith.
At the conclusion of the Mass, Kenia carried a bouquet of flowers to the altar of the Virgin Mary, also known as the Virgen de Guadalupe.
Opening of a rose
After the Mass, Kenia was escorted to a waiting limousine while guests sang "Happy Birthday" to her. Then she was driven to Salina's 4-H Building for the reception, dinner and dance.
Several dozen people had spent most of the previous afternoon decorating the hall in purple ribbons, preparing the stage for the live band, and putting candles, flowered bouquets and purple-gowned dolls on each purple crepe-covered table.
Kenia and her attendants practiced the choreographed traditional dances the day before. During the processional, Kenia was escorted across the floor by her chief escort, Pedro Rincon, also referred to as the No. 1 chambelan.
As Kenia and Pedro practiced waltzing, the damas and chambelans formed a circle around them, twisting and unraveling purple ribbons and falling back on one knee. The dance choreographer, Fernando Torres, said the ribbons symbolized the opening of a rose.
At the dinner, more than 200 people feasted on shredded beef, pork, tortillas, spicy bean soup, noodles and about a dozen salads and desserts. Later, there was a series of toasts, called a brindis, where guests offered Kenia congratulations and best wishes. This was followed by the cutting of a multitiered birthday cake, colored to a light purplish tone to match Kenia's lavish gown.
'In the spotlight'
Kenia's cousin by marriage, Jorge Rivera, was there to offer his own toast of congratulations.
"Kenia's always been a quiet girl, but deep down I think she likes being in the spotlight," he said. "It's a big occasion for her, a reminder she's not a little girl anymore."
This sense of transition into maturity was most evident when Kenia received her tiara, waltzed with her father, then presented the bouquet of 15 gathered roses to Lucia. It was a moment that affected both daughter and mother.
Traditionally, the mother will keep the 15 roses, pressing each one in a book to save for her daughter, Torres said.
"I was excited and emotional," Lucia said. "I felt like it was the Quinceanera I never had for myself."
Copyright 2017 The Lawrence Journal-World. All rights reserved. This material may not be published, broadcast, rewritten or redistributed. We strive to uphold our values for every story published.