SPRINGFIELD, MO. — After the Christmas presents are unwrapped, the new couch is in place and the holiday dinner is over, there is one more thing to do: Recycle.
The amount of waste generated during the Christmas season is the highest of any time during the year, said Barbara J. Lucks, public works materials recovery and education coordinator for the city of Springfield.
Much of that waste likely will find its way to one of the 23 municipal landfills across Missouri.
Just ask Sharon Ewing, office manger for Grace Hauling Inc. in Defiance. The week after Christmas is traditionally one of the busiest for the company, which serves over 3,000 customers in metropolitan St. Louis.
"People get new stuff for Christmas, and they throw the old stuff out," she said.
Missourians generated 11.2 million tons of trash last year, up from 10.9 million tons in 2002, a Department of Natural Resources study shows.
The good news is that the state diverts 45 percent of that waste from landfills due to a commitment by residents and industries to recycle and find innovative uses for materials, said Philip Trembley, spokesman for the DNR's solid waste management project.
"The bulk of our plastics that is recycled is immediately purchased by Canadian and Chinese markets," he said. "The more that we can grab out of the waste stream, it does good all over the world."
Being creative during the holidays also can reduce waste. Trembley suggests offering personal services as gifts, such as washing the family car, sweeping sidewalks, shoveling snow, or painting for elderly family members or neighbors.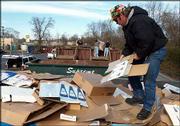 It helps extend the life of existing landfills, thus preventing precious land from being swallowed by new trash dumps.
"There's always somebody trying to find a way to make money out of the things we throw away," Trembley said.
Recycling helped Springfield land a business that brought 32 jobs to the city, Lucks said.
Nestle Purina PetCare encourages people to "think inside the box," pet litter box that is.
The company moved to Springfield in 1999 and began recycling paper products such as gift catalogs and newspapers into pet litter for rabbits, cats, ferrets and small animals. Products are sold across the country under the brand Yesterday's News.
"This is a good way to take paper that might otherwise have been discarded and create jobs and add to the economy," said Elizabeth Aull, the company's recycling coordinator.
More and more cities are getting involved each year, from educating citizens about the need to recycle to contracting with trash haulers to handle those items, Trembley said.
Residents in Liberty, outside of Kansas City, approved having a $2.50 fee added to their monthly water bill to pay for pickup of reusable items.
"It's mandatory that you pay for the program, and it's voluntary if you want to participate," said Mike Pence, street supervisor for the city of about 25,000 residents.
Residents are given a special container for items, and they are picked up on their regular trash day, he said.
Springfield sporting goods giant, Bass Pro Shops, also has gotten into the act.
It has collected Christmas trees for the past 18 years for use by Missouri Department of Conservation and U.S. Army Corp of Engineers as fish and wildlife habitat.
Boy Scouts unload trees for a $2 donation, so donors don't even have to get out of their vehicles, said Larry Whiteley, spokesman for Bass Pro.
Most of the trees go to Table Rock Lake.
"The Christmas trees concentrate fish so anglers can find them and catch them," said Bill Anderson, fisheries biologist for the conservation department. "I certainly feel better about putting them in the lake than seeing them go to a landfill or thrown out on the highway, which is not an uncommon sight after the holidays."
Springfield, Mo. (ap) -- Careful planning during the holidays can reduce the amount of waste that ends up in the state's landfills. The following are a few environmentally friendly suggestions:¢ Buy toys that don't use batteries or buy rechargeable batteries to go with new electronic toys. Information on disposing of batteries is available on http://www.rbrc.org.¢ Buy living gifts. House plants, garden seeds or potted trees that can be transplanted in the spring.¢ Reuse holiday wrapping, or use old maps or comic pages from the Sunday paper for wrapping gifts. Put gifts in decorative tins or boxes instead of throwaway wrapping materials. Use and reuse decorative gift bags.¢ Use your imagination in trimming the tree or yard for the holidays. Take time to recondition strings of lights that may only need a few bulbs. Create ornaments out of items that can be painted or decorated for a new look.¢ To compensate for the harvest of your Christmas tree, arrange to plant a new tree next spring. Or, consider using a durable artificial tree. Try reusing old artificial trees in outdoor holiday displays or for feeding birds and wildlife.¢ Recycle cardboard boxes or better yet, save boxes and bows for reuse next year. It can be a surprise to find that the gift inside is not what is pictured on the box.-- Source: Missouri Department of Natural Resources.
Copyright 2018 The Associated Press. All rights reserved. This material may not be published, broadcast, rewritten or redistributed. We strive to uphold our values for every story published.