The smoldering embers of the evolution debate that brought international attention to the Kansas State Board of Education could be fanned back to flame as the panel takes up its triennial review of public school teaching standards.
The board is expected to vote today on standards for teaching history and government, and hear an update on the proposed science standards being written by a committee of teachers and scientists appointed by the board.
About a third of the committee writing the science standards released proposed revisions Friday that encourage critical analysis of evolution. If adopted, that might allow including intelligent design theory in the standards. And three of the six conservatives who will be on the school board in January have signaled they would initiate or support efforts to have intelligent design theory included in the science standards.
Question of legality
Whether it's permissible to teach intelligent design as part of a public school curriculum remains unresolved, said the board's attorney, Dan Biles.
A few federal courts in other states have ruled intelligent design is another way to try to teach creationism, which is a Bible-based explanation of the earth's origins. A U.S. Supreme Court ruling in the 1980s makes it difficult to teach creationism in a public school science class, Biles said.
Kansas standards for core subjects, including science and social studies, are reviewed every three years. The current science standards were written in 2001 after a moderate board majority took control and reversed a 1999 decision to delete most references to evolution. The 1999 decision sparked international attention.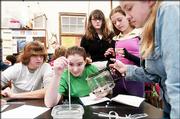 A vote to pass the history and government standards failed at last month's meeting. Board members Connie Morris and Steve Abrams, both conservatives, took issue with some wording in standards for teaching U.S. Constitution and history of American settlement.
Other issues
On Friday, Morris said she had found another problem with wording in the proposed standards describing the U.S. Constitution as a "living document."
The term "living document" is used by people who believe the Constitution is archaic and should change each year, she said.
"That is liberal terminology, and it has no place in our standards," Morris said. "It's not our job to indoctrinate students."
Moderate board member Bill Wagnon said Morris and Abrams' efforts were a disservice to the social studies standards committee.
"There's a tendency to do some wordsmithing on the board that is ideologically driven," Wagnon said.
The committee is composed of more than 25 people, mostly teachers, professors and curriculum coordinators.
"They're the ones that have spent hours and hours and hours gathering all this information and have woven together elements of curriculum standards," Wagnon said.
The state's social studies and science standards do not dictate what public schools are required to teach. Instead, they describe what skills and knowledge children are expected to possess to perform well on state tests. They also are intended as guidelines for school districts.
Science standards
Since June, a 25-person committee has been developing the first draft of the science standards. The draft was posted on the Kansas State Department of Education's Web site in October.
The committee will give the third draft of the science standards to the board in May. It's unclear when the board will adopt the standards.
Starting next month, conservatives will outnumber moderates 6-4 on the board. Three of the six conservatives said they would either try to introduce intelligent design to the science standards or would support such efforts.
Nearly all the conservatives also said they thought evolution was important and should be taught in schools.
Members' views
Of the soon-to-be six conservatives on the board, Connie Morris of St. Francis said she would begin efforts to add intelligent design to the standards if necessary.
1999: Kansas State Board of Education adopts science standards that downplay theory of evolution.2000: Fueled by embarrassment about international publicity, conservative board majority voted out.2001: Moderate board majority revises standards to include stronger references to evolution.2002: With evolution issue off voters' minds, conservatives take two seats on the board.2003: With a 5-5 split, board again takes up science standards.2004: November election hands conservatives a6-4 board majority.
Kathy Martin of Clay Center, who joins the board in January, also said she would support efforts to do so.
John Bacon of Olathe said he would favor adding intelligent design to the standards, depending on advice from the board's attorney.
Board member Kenneth Willard of Hutchinson said he couldn't comment until a proposal about intelligent design was put forth. But he said discussion of alternative theories to evolution would be healthy.
Iris Van Meter of Thayer said she didn't want to comment before today's meeting about her views on evolution, intelligent design and the science standards.
"I have my very own opinions, but I don't care to discuss those until I discuss them with ... the other members on the board," she said.
Abrams said he wasn't sure if he would support intelligent design being added to the standards. He said he hadn't studied intelligent design enough to know if it fit into the definition of "good science."
Copyright 2018 The Lawrence Journal-World. All rights reserved. This material may not be published, broadcast, rewritten or redistributed. We strive to uphold our values for every story published.