Overland Park — It's not over.
The premier political race in Kansas on Tuesday wound up in a virtual dead heat between Republican 3rd Congressional District candidates Kris Kobach and Adam Taff.
With all precincts counted in the district that runs from east Lawrence to the Kansas City metro area, Kobach was ahead 38,124 votes to 38,037 votes, an 87 vote advantage. Patricia Lightner finished a distant third, with 9,944 votes.
But Taff and his campaign held out hope saying that hundreds, if not thousands, of provisional ballots have yet to be counted. Those are ballots that were cast but not counted Tuesday because of questions about the voters' eligibility.
"Stay with us for the next several days," Taff urged his supporters at the Sheraton Convention Center. "I think this is going to take awhile."
Meanwhile, less than a mile away at the Marriott Hotel, Kobach's supporters were celebrating wildly, believing they had pulled an upset over the heavily favored Taff.
The winner will face U.S. Rep. Dennis Moore, a Lenexa Democrat seeking his fourth term and known for being able to win the heavily tilted GOP district by taking advantage of the intraparty warfare between conservative and moderate Republicans. Libertarian David Moffett of Wichita and Reform Party candidate Richard Wells of Olathe also will be on the Nov. 2 general election ballot.
Taff said there were 300 bags of provisional ballots in Johnson County alone. Those won't be counted until Monday, officials said.
In Douglas County, there were dozens of provisional ballots waiting to be considered Friday, enough to fill two mail crates tucked under a table in the county clerk's office.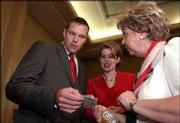 'Every vote counts'
Among those was a ballot cast by Mary Rowden, who voted just before the polls closed.
She had moved twice in the past year, so had to mark a provisional ballot.
"I just got off work, and I got here just in time because I wanted to vote for Kris Kobach," Rowden said. "Kobach is going to win. My vote may not be counted until Friday, but it still counts. For me, every vote counts."
The GOP primary showcased the split in the Kansas Republican Party, with Taff carrying the moderate label and Kobach the conservative.
At the start of the evening, with Kobach trailing in early vote tallies, campaigners and even Kobach seemed to be preparing for defeat.
"It has been a long uphill battle all the way," Kobach said. But he predicted a tight race. "It's the top of the ninth and a tie game."
As the evening progressed and the counting continued, Kobach gained on Taff and by 9:45 p.m. had moved ahead, stunning the crowds at both camps.
The back and forth of the evening seemed to typify the contentious campaign.
Kobach accused Taff of not supporting a proposed constitutional amendment banning same-sex marriage, and Taff accused Kobach of changing positions on abortion.
Meanwhile, Lightner tried to take advantage of the rift between the front-runners, pointing out the fact Kobach and Taff spent much of the campaign engaged in negative advertising against each other.
Lightner and Taff also amplified Kobach's opposition to several initiatives supported by President Bush, such as a proposal to allow undocumented workers to apply for amnesty.
Kobach, 38, served on the Overland Park City Council, but rose to make a name for himself as counsel to U.S. Atty. Gen. John Ashcroft after the 9-11 terrorist attacks. He said the ability for illegal immigrants to enter the United States was a security concern.
During the campaign, Kobach also filed a lawsuit challenging the state's new law allowing some undocumented immigrants who attend public universities to pay the lower-cost resident tuition.
Lightner, 46, a state legislator from Overland Park, touted her legislative experience during the campaign.
She was a controversial chairwoman of the House Insurance Committee, sometimes at odds with moderate Republicans.
Taff, 39, has been campaigning for three years. As a political newcomer in 2002, he came close to Moore, losing 47 percent to 50 percent.
After his defeat, Taff plunged into campaign mode, raising money and rounding up endorsements and appearing at functions.
He often touted his military background, saying it was needed in Congress as the nation waged war against terrorism.

-- Staff writer Mark Fagan contributed to this report.
Copyright 2018 The Lawrence Journal-World. All rights reserved. This material may not be published, broadcast, rewritten or redistributed. We strive to uphold our values for every story published.