Maggie Erickson's home is a showplace of the Southwest. But she lives in Knoxville, Tenn.
With a little bit of work, and a lot of imagination, she's turned her Smoky Mountain home into desert wonderland.
"I love the Southwest. I lived there many years ago, and I never got over it," says Erickson as she walks through her spacious home decorated with art and furniture from Arizona, New Mexico and Texas.
She and her husband, Cy, travel to the region often.
Maggie steps from the vividly hued interior of their residence to an expansive courtyard behind the house, where terra cotta and enamel pots overflow with blooming exuberance and lacy white wisteria veils a pergola. Flower baskets hang near seating areas where the couple likes to play host to dinner parties.
The openness and bountiful color create "a comfortable, relaxed atmosphere," says Maggie. "I like the freedom you feel when you are out here."
Cactus ornaments, armadillo sculptures and glazed tile work decorate this entertainment area, which also includes an outdoor fireplace, bar and grill.
Beds of sweet-smelling Casablanca lilies border the patio area. Potted cacti thrive in heat radiating from paver bricks. Irises in colors reminiscent of a desertscape are blooming for the first time.
Maggie ordered them from Long's Gardens in Boulder, Colo. Names reveal their vibrancy: Arizona Holiday, Banana Margarita, Desert Rage, Halloween Pumpkin and Piping Hot.
Hummingbirds and bees flit about in small planting areas.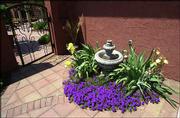 "Our garden is a haven for birds and butterflies. It's always really buzzing with lots of insects," says Maggie.
In a side garden, a wrap-around wall creates a microclimate for spiderworts, red gerber daisies, primroses, sedum, portulaca, camellia and verbena. "We like to always have something blooming," says Cy.
In the upper courtyard, a cascading waterfall spills into a free-form pool. "The original plan had a set of stairs. I decided to change that so the garden area has a focal point," says Cy.
The couple's house was completed three years ago.
Sun-loving lizards have made their home in a perennial bed near the pool. A weeping white pine and crape myrtle preside over oakleaf hydrangea; red-tinged barberry serves as a fringe. Hollyhock, salvia, yarrow, firecracker, coneflower, centaurea, shasta daisy and pineapple sage show off a Southwestern palette.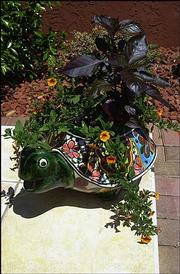 "The garden's theme is red, purplish blue and oranges. Bright colors make you smile," says Maggie.
"I went nuts planting all this stuff," she quips. "The Southwestern gardens that I have admired the most are the wilder ones."
Her initial efforts were re-organized by professional gardener Darby Parker, who also designed several arrangements in the courtyard's large containers.
Cy's roses and Maggie's herbs glorify the garden's entranceway by the garage. A sweet bay magnolia scents the air.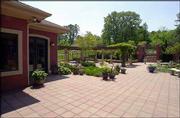 Several birdfeeders are perched near a picture window and a purple martin house towers over a swath of emerald lawn. Variegated euonymus trims the earthy red stucco house. Boulders provide accents on the 3.8-acre property.
Prickly pear cacti thrive in the shadeless front garden.
"They are very hardy and are about the only cactuses that lives in this climate," says Cy.
Copyright 2018 The Lawrence Journal-World. All rights reserved. This material may not be published, broadcast, rewritten or redistributed. We strive to uphold our values for every story published.