A recent rise in milk prices may help Douglas County dairy farmers Chip and Jan Hornberger turn a profit for the first time since 2000.
National dairy experts expect the price for a gallon of milk to increase 50 cents by mid-May. The increase is a welcome sign for the Hornbergers, of rural Baldwin.
"This might be our year," Chip Hornberger said. "After four years of not turning a profit, we're sure hoping this is the year that we finally do."
"It would definitely make our accountant a lot happier," Jan Hornberger said.
Shrinking industry
Industry analysts think milk prices may reach a record high in 2004 because of the nation's shrinking dairy herd.
The United States has 8.9 million dairy cows, which is the lowest number in five years, said Chris Galen, a spokesman with the National Milk Producers Federation. He said dairy herds were shrinking because farmers were opting to slaughter their cattle to take advantage of high beef prices. The emergence of mad cow disease has limited the number of dairy cows that can enter the country from Canada, and rising feed prices have kept farmers from increasing the size of their herds.
"It's almost a perfect storm of factors, any one of which wouldn't have much of an impact, but together they have kept a heavy lid on production," Galen said.
It is the storm dairy farmers have been seeking. Milk prices reached a 25-year low last year and have been below average for the past four years, Chip Hornberger said.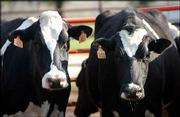 A year ago, area farmers were receiving less than $10 per hundredweight -- or 100 pounds -- for their milk. Today, prices are $13 and climbing. The couple said they could begin turning a profit at $14. Analysts have estimated milk prices could reach $17 per hundredweight by summer.
"A year ago, we weren't getting our bills paid," said Randy Flory, co-owner of Flory Dairy in southwest Douglas County. "So this is a welcome change, but it is just a question of how long it lasts."
Grocery bills
Brighter days on the farm, though, are creating a heftier price tag at the grocery store.
Retail prices for milk already have started to rise, according to Ed Jesse, a dairy economist with the University of Wisconsin who surveys the industry. He said the price consumers paid for milk had jumped by 15 cents a gallon, from a nationwide average of $2.85 on March 1 to $3 on April 1.
The U.S. Agriculture Department predicts the increased raw milk prices will mean a 4 percent to 6 percent jump in retail prices for all dairy products in 2004.
"In the last couple of years, the increase has been 1 to 2 percent a year, so this is significant," said Annette Clauson, an economist in the department's Economic Research Service.
Vicki Penner, a Lawrence consumer, said she wasn't looking forward to an increase in milk prices but said it probably wouldn't affect her buying habits.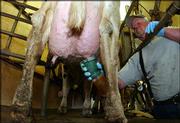 "I think we'll continue to drink milk because it is so healthy, so in some ways it really won't be that big of a deal," Penner said.
Chip Hornberger is optimistic others will respond the same way.
"Hopefully the general public will understand if they want a good, quality product that it will cost them a little more," he said.
Tough occupation
Being a dairy farmer doesn't top the career list of many high school students. Poor prices and long hours are likely reasons.
The Hornbergers begin the three-hour process of milking their 70 cows at 5 a.m. and again at 4:30 p.m. daily. Between the daily milking process, there are feeding and cleaning chores.
"It is a tough job," said Chip Hornberger, who has been in the business since 1972 when he partnered with his father, Charles. "Somebody has to be there twice a day, seven days a week to milk the cows, whether you're sick or not."
Flory estimated there were 12 dairies in Douglas County, down from about 70 in the early 1970s.
The 2003 downturn took a toll on the Hornbergers' operation, which is incorporated under the name C-HO Dairy Inc. The couple cut their herd from 100 to 70 cows and laid off their one full-time employee.
The Hornbergers said the dairy market was like the stock market -- good prices that are here today can be gone tomorrow.
"We've seen $16 milk go to $10 milk in three months' time, so it is hard to get too enthusiastic," Chip Hornberger said.

-- The Associated Press contributed to this story.
Copyright 2018 The Lawrence Journal-World. All rights reserved. This material may not be published, broadcast, rewritten or redistributed. We strive to uphold our values for every story published.