Topeka — The smell of sawdust hangs in the hallways.
Polished marble is covered with protective foam.
Ornate moldings and doors to the Senate chamber are covered by plywood framing and gray industrial doors.
An eight-year, $135 million renovation and restoration has begun at the Statehouse.
For more than a year, construction crews have been building a parking garage, visitors center and offices for legislative staff. But now, the construction moves inside the Statehouse, as work begins on the east wing.
State architect Barry Greis said Tuesday that the east wing would remain open to visitors -- despite the construction -- until Dec. 1. That's when the west doors become the public entrance.
Behind those doors, craftsmen and artisans will restore the building to its original splendor, taking care not to disturb its integrity.
For example, he said, lights will be replaced with historically accurate substitutes, vital to any restoration effort.
"Especially with the premier historic building in the state," Greis added.
Jeff Russell, director of legislative services, said east wing work required relocating the Senate leaders' offices, as well as the governor's staff.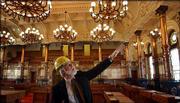 Senate leaders are temporarily housed in committee rooms on the north end of the second floor while the Senate chambers are restored. They will move back to their offices for the 2004 session, but work will be far from complete.
"It's certainly going to be a more construction-like atmosphere than normal offices," Russell said.
Major milestones are approaching. Greis said the final concrete would be poured on the parking garage in December. Interior work will be finished, including access from the garage through the Statehouse basement. The garage will open April 3.
As people pass through the garage and unfinished visitors center, Greis said, they will see original, hand-cut limestone walls that form the Statehouse foundation.
In 2000 and 2001, the Legislature authorized $55 million in bonds to complete the parking garage, build new underground vaults for offices and mechanical systems, and start work on the east wing. However, legislators must approve an additional $19.8 million in bonds for east wing work to be completed.
Three years ago, in approving the renovation, legislators concluded the Statehouse needed massive improvements to its electrical, heating, plumbing, and cooling systems. They also wanted better committee rooms and offices for legislators and a visitors' center in the Statehouse basement, used mostly for storage.
If the work goes as planned -- and legislators approve more bonds -- work on the east wing is expected to be done by July 2005.
The third phase includes renovation of the west wing; the fourth and final phase, renovation of the north and south wings and the rotunda. Plans call for the renovation's completion in October 2010.
Copyright 2018 The Associated Press. All rights reserved. This material may not be published, broadcast, rewritten or redistributed. We strive to uphold our values for every story published.