SPRINGFIELD, MO. — Central Christian Church's congregation expects the sanctuary to be filled with colorful poinsettias during the Christmas season.
The plant that comes in a variety of colors with catchy names such as Jingle Bells, Glitter and Silver Star Marble has come to represent peace and joy to the some 250 members of the Springfield church, said the Rev. Sarah Stephenson.
"In the same way that we wouldn't think of celebrating each Sunday without communion, neither would we think of Advent without poinsettias. We just love them," Stephenson said.
Churches, businesses and homeowners buy $200 million of poinsettias annually in the United States. They are the nation's top-selling potted flower, in greatest demand from early November to late December.
But the Christmas flower has been barely profitable for most growers in recent years. There are so many on the market that big retail stores can buy them cheap and keep prices low.
"It used to be that floral shops and greenhouses were the only places you could get poinsettias," said Tammy Bruckerhoff, a horticulturist with Missouri Department of Agriculture. "Now they're in Lowe's, Wal-Mart and just about every grocery store. And they're all different price points."
Missouri doesn't track how horticulture fits into the statewide agriculture picture, but Bruckerhoff said greenhouses were emerging all across the state.
Growers said they stayed in the poinsettia business because it's the only viable crop for this time of year. It also keeps their best customers coming back year-round.
"It definitely carries us through the winter months," said John Clark, owner of Summerfield Greenhouse in Springfield. "But it is more expensive because it's one of the few plants that we grow from start to finish."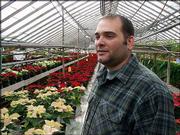 Like many greenhouses, Clark began working with this year's poinsettias in early July. They arrived as cuttings that were 1 inch tall.
Poinsettias also are fickle. They require adequate growing room, a foot or more on a bench. They also have to be kept in darkness for 14 hours a day while they are growing.
In fact, Springfield's city utility has agreed to turn off the street light in front of Clark's greenhouse during the crucial growing time.
"Without the darkness, they wouldn't color-up the way they're supposed too," said Clark, who purchased his greenhouse this past January.
Growers keep introducing new colors and varieties in hopes of making more money on the holiday plants, which typically sell for $5 to $70.
Red and white poinsettias continue to be popular, but other colors are emerging. Silver Star Marble is a salmon pink plant with a pinkish-white border, while Monet is a raspberry speckled plant.
"We are always looking for ways to create new interest and excitement," said Larry Hartman, owner of Fairview Greenhouse.
Hartman is a wholesaler who produces more than 250,000 poinsettias in 15 acres of greenhouses. The main business is in Carthage, but he also has operations in Jasper and Chanute, Kan.
Hartman's primary customers are Wal-Mart, Kroger and Dillon's grocery stores. His plants go to stores in Arkansas, Kansas, Louisiana, Missouri and Tennessee.
"It's a very competitive business," he said. "Prices have continued to drop since November 2000. That means we have to be more efficient in the way do things. It's no different than any other part of agriculture."
Hartman said he would wait until after the post-Thanksgiving shopping weekend to predict whether this would be a good year.
"The stores are all stocked and the shelves are full," he said. "If the shelves are still full after the first big shopping weekend, it could be a long winter."
Copyright 2018 The Associated Press. All rights reserved. This material may not be published, broadcast, rewritten or redistributed. We strive to uphold our values for every story published.