A Lawrence lawmaker on Tuesday called on Gov. Kathleen Sebelius to support a tax increase for higher education early in the legislative session.
Paul Davis, a Democrat, said support from Sebelius and legislative leaders would be key to passing a funding increase for universities.
"Even if the governor proposes it and gets behind it, it's going to be a tough row to hoe," Davis said. "There are a significant number of legislators who won't support a tax increase under any circumstances."
Davis was one of three panelists at a higher education funding forum Tuesday night at the Dole Institute of Politics.
The forum, which was sponsored by Kansas University's Student Senate, also included Janet Murguia, executive vice chancellor for university relations, and David Shulenburger, executive vice chancellor and provost. About 25 people -- mostly student senators -- attended.
Sebelius has offered task force meetings across the state to discuss education funding and is expected to make a proposal for increasing funds to public schools and universities.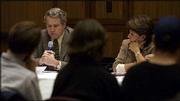 Echoing previous calls for increased funding, Shulenburger and Murguia said KU ranked low in funding compared with its peer universities, and they said the state's contribution to students' education has decreased from $7,248 in 1985 to $5,605 in 2003.
Shulenburger said KU has sustained about $11.6 million in cuts the past two years, including absorbed increases in employer costs such as health insurance. He said projections called for KU to have a $3.7 million increase in benefits costs next year.
"The administration's hope is these fringe benefits are covered," he said. "It would be roughly a 3 percent cut if they're not. If you get nothing, you slide back with those kinds of increases."
Blake Shuart, legislative director for Student Senate, said the group planned to mobilize students more during the legislative session, which begins in January.
"It'll be more face time and a strategic approach to lobbying," Shuart said.
Copyright 2018 The Lawrence Journal-World. All rights reserved. This material may not be published, broadcast, rewritten or redistributed. We strive to uphold our values for every story published.