Topeka — After enrolling at Washburn University, Roger Werholtz decided he didn't want to become a lawyer as many fellow students did and pursued a theater degree.
He couldn't sing or dance, he says, but he did show promise as an actor. In a production of "One Flew Over the Cuckoo's Nest" he played McMurphy, the role for which Jack Nicholson won an Oscar in the movie version.
So how did Werholtz end up as Kansas' top prison official?
"By accident, purely by accident," Werholtz said in a recent interview, amused by the question.
There's more to it than that, of course. A series of choices over three decades, some more deliberate than others, led him into mental health work, then into community corrections and finally to the state prison system.
Many legislators see him as an experienced corrections professional. Some in state government -- including Gov. Kathleen Sebelius, who appointed him -- were surprised to learn that he holds degrees in theater and English.
"I would have thought master's of public administration," said Rep. L. Candy Ruff, D-Leavenworth.
Roundabout career path
Werholtz joined the Department of Corrections in 1982 as a specialist on community programs and rose to deputy secretary in 1987.
Then-Gov. Bill Graves appointed him acting secretary of corrections when Charles Simmons resigned last September. Sebelius kept him on as acting secretary, then made the appointment permanent a day after she took office in January.
Werholtz's early career path took a roundabout route.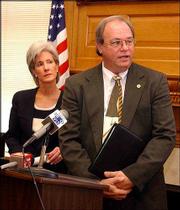 "When you can't sing and you can't dance, your career in theater is going to be short-lived," he said.
Werholtz, an Emporia native, said he was supposed to become a lawyer when he came to Washburn in 1967.
"Everybody else was at Washburn to be a lawyer," he said. "I didn't want to be like everybody else."
Werholtz had parts in avant garde plays, black comedies and Shakepeare's "Romeo and Juliet" and "Julius Ceasar." Parts in local productions after his graduation in 1971.
His favorite role was that of Randle P. McMurphy, the protagonist in "Cuckoo's Nest" who is convicted of statutory rape and agrees to be treated in a mental hospital to stay out of prison.
Of his portrayal of McMurphy in the Topeka Civic Theatre's January 1975 production, a newspaper reviewer wrote that he was convincing and "let the audience feel free to laugh." He won an award from the theater group for his performance.
'Reality' sets in
After leaving Washburn, he auditioned for graduate theater programs but couldn't afford tuition rates at the University of Michigan. His wife wanted to attend Washburn's law school.
"So that's when reality started to set in," he said.
While still a Washburn student, Werholtz took a job at the children's hospital of the famed Menninger psychiatric clinic, working with mentally ill adolescents.
He joined the Department of Social and Rehabilitation Services in 1974, lured by a chance at a stipend for graduate school, and received a master's degree in social work from the University of Kansas in 1978.
Relocated by SRS to Kansas City, Kan., Werholtz eventually became director of a children's services program at the Wyandot Mental Health Center.
He helped Wyandotte County officials plan a community program for offenders and became its director in 1981. Thatbrought him into contact with state officials -- and eventually, a job with the state.
Werholtz joined the Corrections Department during what he recently called its "bad old days," when prisons were overcrowded by tough sentencing laws but legislators refused to add new space.
Now, Werholtz manages a prison system with an inmate population nearing 8,900. Some legislators give him high marks for being approachable and open.
Sen. Jim Barone called Werholtz "very credible" and was surprised to learn about his theater background.
"He does not come across as an actor," said Barone, D-Frontenac.
Asked where his career might take him later, Werholtz mused that he might return to acting, then said, "No, I wasn't being serious."
"It's a lot work, very time-consuming," he said. "And I actually kind of sit back and enjoy watching now."
Copyright 2018 The Associated Press. All rights reserved. This material may not be published, broadcast, rewritten or redistributed. We strive to uphold our values for every story published.