A country garden sits in the middle of a brome field in nearby Lawrence. Fences enclose the garden, and the surrounding countryside provides the perfect backdrop for this wonderful retreat.
The garden is alive with flowers typical of a country garden, the delicate wisps of larkspur and sturdy stands of hollyhocks. It is home to beds of roses and vibrant clematis vines. Manicured grass stretches across the midsection, and a healthy vegetable garden and fruit tree grove thrive on the other side of the fence. A dry creek bed runs along one of the brick paths.
Surprisingly, yet perfectly natural looking, a pond anchors one corner. This enchanting country garden is the work of Sherry and Jack Virtue, who split the garden duties. He tends the vegetable garden, and she is in charge of the pond and flower garden.
"He's raising food for the body, and I'm raising food for the soul," Sherry said.
A work in progress
The Virtues created this garden in six years. Like most gardens, it remains a work in progress. A small trellis, upon close inspection, needs to be fitted properly, and more plants await placement in the garden. Even the brick path that looks complete needs more work.
"I was going to put in a little sidewalk, except it kept getting bigger and bigger," Sherry said. The process was slow. "It took me awhile. I could only lay down 10 bricks a day. I still don't have sand brushed in."
Nonetheless, the garden is spectacular and extends to a wooden deck shaded by a large pergola. Sherry brought some of her shade plants from a previous residence and placed them in a container under the pergola.
"They're going nuts now," she said. "They really like it here." Huge hostas, frilly ferns and round leafed ligularia crowd in their comfortable home.
The entire garden looked so perfect that I wondered how she planned it all.
Experts suggest gardeners devise a master plan. Following a plan doesn't work for Sherry.
"Shoot, I can't leave a plant alone," she said.
As a result, many of her plants have been planted in a few places before she found the perfect garden spot for them.
Flowers grow in the ground, up trellises, in an old watering bucket and in a discarded teakettle. "I'll take anything and plant in it," she said.
Small birdhouses, including several made by Sherry, adorn the fence surrounding her garden. "A small pair of wrens has made a house in that little birdhouse," she said proudly, pointing to the one in the middle.
One birdhouse sits on top of a decorative spindle. "I love to take old junk and make something out of it," she admitted. True enough, a bench in one corner of the garden has been fashioned from a headboard of an old bed. It sits under a small arbor.
'Time to play'
But, I came to see the pond. It is surrounded by beautiful stones and delightful statuary. The pond area sits in the back corner of the garden. A natural-looking mound gives rise to a wonderful waterfall. Water splashes into the pond, which is 3 feet at its deepest and holds about 1,000 gallons. The pond is home to miniature cattails, lily pads and other aquatic life, including ordinary goldfish. "Those darn fish nibble at your toes when you walk in," Sherry said, laughing.
Sherry and Jack's Virtue garden is one of 14 gardens on the Sunflower Water Garden Society Tour. Tour schedules are 9 a.m.-4 p.m. Saturday and noon-4 p.m. June 29. Tickets are available for $10 at Sunrise Garden Center, 15th and New York streets; Clinton Parkway Nursery, 4900 Clinton Parkway; and Water's Edge, 847 Ind.; or at any of the garden sites
A swing sits next to the water feature, the perfect place to hear the waterfall and gaze at the sight, something Sherry takes seriously. "My favorite thing to do is sit in the swing with tea," she said.
"I've wanted a pond for 40 years," she noted. She finally got her wish, but not without a lot of hard work on her part. She dug the large pond by hand, by herself. "I had to fight clay every inch of the way," she said. "I did it and redid it until I got it right."
Once the pond was the size and shape she wanted, the liner went in, and the rocks that she had gathered were placed around the pond's perimeter. A leak forced her to dig a drainage trench around the pond. The pond is just right now.
Two bog gardens nearby add the finishing touch and are filled with bog lilies, water irises and a foliage plant similar to elephant ears.
I was thrilled to have visited this country garden and pleased to hear the wisdom of its gardeners.
"These are my toys," Sherry claimed. "I've worked all my life. Now it's time to play."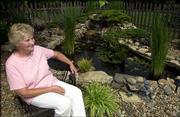 Copyright 2018 The Lawrence Journal-World. All rights reserved. This material may not be published, broadcast, rewritten or redistributed. We strive to uphold our values for every story published.