Wichita — This spring, the gently rolling terrain of the Smoky Hill River basin in Gove and Logan counties was awash in the orange hue of Indian blanket wildflowers.
"I have never seen anything like it," said Randy Rodgers, a wildlife biologist with the Kansas Department of Wildlife and Parks in Hays. "Wildflowers went wild this spring."
Produced by an unusually wet spring with mild temperatures, the lush vegetation that covered large swaths of western Kansas countryside was all the more stunning after several years of drought in the normally arid region.
But the wet spring gave way the summer's dry weather and triple-digit temperatures. The wildflowers "are all burning up now," Rodgers said, and there are renewed fears that drought conditions are back.
The changing conditions are reflected not only in the vegetation on the prairie, but in wildlife populations as well. Some species are thriving in the dry weather, but the populations of others have not done well.
Jackrabbits -- that infamous scourge of the Dust Bowl era -- had a population boom last year in western Kansas. So did grasshoppers.
Birds have been a different story.
This spring's annual survey of lesser prairie chickens found breeding populations down 29 percent -- a result of last year's drought and poor production, Rodgers said.
During last fall's pheasant survey, the population in areas hard hit by drought was down 23 percent from one year earlier.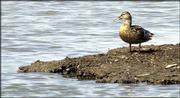 "The cumulative effect of drought wasn't just 2002," Rodgers said. "Western Kansas has been dry since the fall of 1999. We have had some periods of decent rains, but the overall picture has been very dry since the turn of the millennium."
Threatened populations
No official numbers are yet available to document the effect of the rain that fell from March into June of this year, but biologists have observed noticeably more young wildlife than they had seen in several years. But the hot, dry conditions that followed could cut into those populations unless there is more rain between now and fall.
"We had a very nice spring -- and great wheat yields and good wildlife production -- but it came because of the timing and frequency of rains," Rodgers said.
"Unfortunately, most of those rains were not adequate to build good soil-moisture profiles," he added. "Plants were surviving on the rains that were coming, so we do not have a lot of moisture in the soil to carry us through the summer now that it has stopped raining."
In northwest Kansas, the spring rain was quickly absorbed into the parched ground, leaving no runoff to replenish lakes and streams.
Three of the area's reservoirs -- Webster in Rooks County, Kirwin in Phillips County and Sebelius in Norton County -- are especially low because they are also used to support irrigation, said Steve Price, the wildlife department's regional fisheries and wildlife supervisor in Hays. The reservoirs are already 12 to 14 feet low, with irrigation releases now under way.
Low water affects some species of fish quickly as they are robbed of favored habitat and crowded into the available water.
"We are starting to see in some cases the effects of crowding in decreased physical conditions for some species -- particularly for species that are shoreline-oriented and dependent on woody habitat, such as the largemouth bass and bluegill," Price said.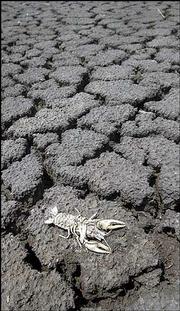 Fisheries are shifting to other species, such as walleye and white bass, which are open-water species not dependent on shoreline cover, Price said.
Dire situations
Water is also seriously low in some community lakes, such as Lake Atwood, Logan City Lake and the Saline State Fishing Lake near Salina.
So dire was the situation at Saline State Fishing Lake this spring that officials opened it for public salvage, allowing anglers to take the surviving fish by otherwise illegal means such as netting or catching them by hand.
Visitors to the Cheyenne Bottoms wetlands area near Great Bend already have noticed effects of the drought.
There is water in just one of the nine pools and in less than 12 percent of the typical marsh area, said Helen Hands, wildlife biologist with the Department of Wildlife and Parks.
Cheyenne Bottoms is inhabited in midsummer by nesting ducks and geese as well as herons, egrets and other birds starting to make their migration down from the Arctic, she said.
"It is probably going to be harder on the birds like the ducks who are trying to find food for their young," Hands said. "The shore birds have some shallow water area, not a whole lot."
If the dry weather persists, the problem be even greater in the fall, when Kansas gets the bulk of its duck migration. In a good fall, as many as 100,000 ducks stop at Cheyenne Bottoms.
"Options are more limited now than they were 100 or 200 years ago because we have drained lots of wetlands for farming and towns," she said.
Central Kansas provides just two alternatives for the birds when Cheyenne Bottoms is dry: the McPherson wetlands and Quivira National Wildlife Refuge in Stafford County.
"Drought conditions are natural. The Cheyenne Bottoms have had dry times in the past," Hands said. "But the upside in the past was, there were other wetlands around that birds could take advantage of."
Copyright 2018 The Associated Press. All rights reserved. This material may not be published, broadcast, rewritten or redistributed. We strive to uphold our values for every story published.