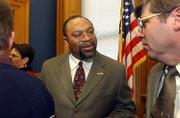 Rod Bremby, a former Lawrence city official for 10 years, was named Tuesday as secretary for health and environment by Gov.-elect Kathleen Sebelius.
Bremby, who was Lawrence's assistant city manager from 1990 to 2000, will oversee the Kansas Department of Health and Environment.
Sebelius announced the appointment to the key cabinet post Tuesday morning.
"I'm delighted to bring new talent and energy into this administration, in an agency so critical to all Kansans," Sebelius said in prepared remarks. "Rod Bremby's experience with research and promotion of community health initiatives in Lawrence will be most beneficial to KDHE and the people it serves. Rod spent 10 years as the Lawrence assistant city manager and has been actively involved in a wide range of community initiatives. Rod understands the critical connection between the health and well-being of Kansans and the protection and regulation of our environment."
Bremby is currently associate director and assistant research professor at Kansas University for the KU Work Group on Health Promotion and Community Development.
As a senior staff member for the group, he shares overall responsibility for coordinating the work group's activities.
Bremby's appointment must be confirmed by the Kansas Senate.
Also Tuesday, Sebelius selected Mike Hayden to remain as secretary of Wildlife and Parks, while Janet Schalansky will continue to head the Department of Social and Rehabilitation Services.
The governor-elect also named Jim Garner, former House minority leader, as secretary of Human Resources; Deb Miller, chief planner with HNTB engineering, as Transportation secretary; and former Topeka Mayor Joan Wagnon as secretary of revenue.
Copyright 2018 The Lawrence Journal-World. All rights reserved. This material may not be published, broadcast, rewritten or redistributed. We strive to uphold our values for every story published.