Topeka — The state's longest-serving legislator is stepping down after being appointed by Gov. Kathleen Sebelius to the Kansas Parole Board, it was announced Tuesday.
State Sen. Paul Feleciano, a Wichita Democrat, has been in the Legislature the past 30 years, serving in the House from 1973-1976 and from that point on in the Senate.
Feleciano has taken numerous leadership positions in the Legislature, most recently serving as the ranking Democrat on the Senate budget-writing committee.
Feleciano currently is president of the National Hispanic Caucus of State Legislators.
"I believe Senator Feleciano has the right balance of compassion and toughness needed to serve as a member of this board," Sebelius said.
The Parole Board, recently downsized from four members to three members, decides which eligible inmates will be released on parole.
Feleciano, appointed to a four-year term, will earn $98,800 per year. Feleciano will replace Carl Cushinberry of Topeka.
After Feleciano officially resigns from the Legislature, precinct chairmen from his district will appoint a replacement for the remainder of his term.
Kansas Democratic Party Chairman Larry Gates said Feleciano's replacement would have to make a commitment to run a strong campaign when the seat is up for election in November 2004.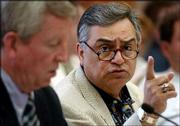 Despite the fact that Feleciano has represented the area for 30 years, "it's not an automatic" Democratic seat, Gates said.
The mostly southeast Wichita district tilts Republican in voter registration with 35 percent registered with the GOP and 33 percent registered Democrat. Thirty percent are unaffiliated, and 2 percent claim membership in other parties.
Copyright 2018 The Lawrence Journal-World. All rights reserved. This material may not be published, broadcast, rewritten or redistributed. We strive to uphold our values for every story published.