Topeka — Democrat Kathleen Sebelius and Republican Tim Shallenburger on Tuesday argued about school funding and crime and accused each other of underhanded campaign tactics in their final debate in the Kansas governor's race.
Sebelius said Shallenburger had gone too far by mailing a campaign fund-raising letter in which he called Sebelius "a lying, dangerous liberal who will ruin our schools and endanger our children."
"Tim sent a fund-raising letter that I think is way out of bounds," she said during the live, televised debate, which was also broadcast nationally on C-SPAN.
Sebelius said Shallenburger's campaign ads, letters and telephone calls that portray her as soft on crime were insulting.
"To challenge my belief that we need safe communities, that as a mother I would do anything less than protect our children, I think is an act of desperation in the closing days of the campaign," Sebelius said.
The Shallenburger campaign confirmed that it sent out the Oct. 18 letter, which was signed by Shallenburger. The letter also said, "I cannot imagine Kathleen as Governor. I cannot imagine an administration that does not honor veterans and does not protect children."
Asked earlier in the day, if he stood by the statement that Sebelius was a "lying, dangerous liberal, " Shallenburger said, "Her voting record on crime is pretty dangerous. Some of the statements about me in her campaign have not been honest, and everyone knows that she's liberal."
During the debate, Shallenburger, the state treasurer, said he wanted voters to see the difference between himself and Sebelius, the state insurance commissioner, especially on their votes on crime and taxes when they both served in the Kansas House.
"I have been tough on crime. I'm not saying if you're not, you're unpatriotic or you are less of a person," he said.
"I was a George Bush guy; she was an Al Gore guy," he said.
Sebelius has said she voted dozens of times to increase punishments for criminals, and that Shallenburger was taking a handful of votes out of context.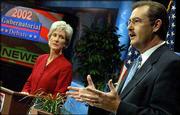 Earlier in the day, Shallenburger conducted a news conference with the parents of Stephanie Schmidt, a woman who was brutally murdered in 1993 by a man who had served time earlier for rape. Gene and Peggy Schmidt commended Shallenburger's votes on crime legislation and criticized Sebelius. Sebelius said Shallenburger was exploiting the Schmidts for political gain; a statement that Gene Schmidt said was an insult.
"She doesn't know what she's talking about," Gene Schmidt said.
During the debate, Shallenburger accused Sebelius of distorting his record on education when she says he will cut school funding. "That is false," he said, adding that he would protect school funding from budget cuts.
But Sebelius shot back: "Tim you are on the record, on tape, in newspaper interviews, saying over and over again that a 3 percent cut in public education is acceptable. We can play the tape for you."
The two also differed on gun control, with Shallenburger saying he supported legislation that would allow Kansans to carry concealed weapons. Noting the Washington, D.C.-area sniper, Shallenburger said, "If I lived in Maryland today or Washington today, I would defend myself."
Sebelius said she planned no changes to state gun laws.
On the major issue facing Kansas the state's worsening budget crisis both candidates tried to deflect criticism that they were not proposing any concrete remedies.
Budget experts say the state will face a gap between spending and revenue of hundreds of millions of dollars.
Shallenburger has vowed to oppose any tax increase to fill the gap, saying that cutting waste and streamlining government is the key
"We need to tighten our belt to make it through these times without raising taxes," he said.
Sebelius restated her proposal to conduct performance audits of all state functions to reduce inefficiencies and find savings.
Copyright 2018 The Lawrence Journal-World. All rights reserved. This material may not be published, broadcast, rewritten or redistributed. We strive to uphold our values for every story published.