Manhattan — Whitney Snyder has a man in her life.
For the 16-year-old Manhattan High junior, it's a 12-year-old. "He's my boyfriend," Snyder openly says as she gets on her worn booted-tiptoes to give the guy in her life a cheek-to-cheek hug. "He's lovable and bubbly. He's just perfect for me."
On most days, with affection, Snyder calls her "boyfriend" Triton. When she proudly takes him out in public, he goes by the name of Ismael, a 12-year-old Dutch Warmblood that came from Holland.
You see, Snyder is an English rider, and it's Triton/Ismael who makes his rider's travels safe over a series of a dozen 3- and 4-foot barriers in equestrian competitions.
"I'm just a pea on him, but he keeps me safe," Snyder said, giving her chestnut man another hug. "I think we've developed a trust."
Snyder, the daughter of Kansas State University football coach Bill Snyder and his wife, Sharon, started her riding days seven years ago when she attended a Horse Crazy Day Camp where Mary Ann Thomas Funk, the owner of Ashwood Farm, served as hostess.
At the time, Snyder knew the nose from the rump but little else about horses.
That would soon change.
"There was such a connection with the horses ... an immediate love," she said. "I just got hooked and couldn't stop."
Funk remembers Snyder as one who wouldn't stay away from the riding stable from day one.
From a lifestyle of soccer on Monday, dance on Tuesday, softball on Wednesday and so on, it became riding horses 24-7.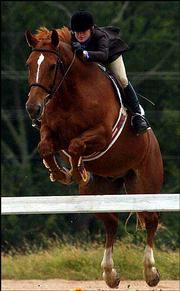 Olympic material
"She couldn't get enough of it," Funk said. With a reflective laugh, she added, "She was riding four and five days a week. She was one you had to say, 'Bye, Whitney, get out of here.'"
In seven years, Funk says Snyder has gone from a hanging-on-for-dear-life rider to an Olympic candidate in English riding.
She's gone from riding Bambi, to Mystic, to Jasper, to Bo, whom she rode to a ninth-place finish in the 2001 National Pony Hunter Finals in Ashville, N.C.
From Bo, a pony of 14 hands in height (each hand is 4 inches), last fall Snyder went to Ismael, who measures more than 17 hands.
"She didn't go from a pony to a horse, but a pony to a giant horse," Funk said of Ismael, a Grand Prix champion two years ago in Aachen, Germany.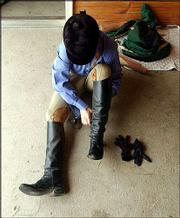 "He's huge," said Snyder, who only measures about 15 hands, herself.
Not like football
But Snyder and Triton go together like peas and carrots.
"This is so different than football or basketball because it's interacting with a live animal," Snyder said. "The relationship you can develop with your horse is amazing."
Funk says having such a quality horse helps a rider like Snyder, but adds, "There are a lot of talented riders, but very few great horsemen. When you get to the Olympic level, there has to be that intangible love connection with the animal, which Whitney has."
A hard worker
Together, Ismael and Snyder have won scads of ribbons via the expertise and experience of the animal, and the "elbow grease" of Snyder.
"She is the hardest working teenager I've ever seen in my life," Funk said. "She is honest, honest, honest. There are no excuses from her. She admits her mistakes and is incredibly mature for her age."
Snyder thrives on competitions but also doesn't excuse herself from cleaning stalls, keeping her equipment up, wrapping the legs of her horses, and of course, she'd ride morning, noon and night if allowed.
"I love the mornings," Snyder said. "I like the smell of the morning and sunrises. I love being with my horse. It's a love we've created."
'I like to win'
Friends, other than Triton?
She says she has plenty, but giggles as she says, "They think I'm a big dork. But my real friends respect the fact that my horses come first."
Boyfriends?
Blushing, she said, "No boys."
While Snyder says she'd ride just for fun, she candidly admits that winning is important to her.
"I really have to hold myself back from focusing on that too much," said Snyder, who now helps Funk teach beginning riders. "It's not why I do it, but I do like to win. I like to be challenged. I don't want things to be easy."
Snyder has presented herself with the challenge of making a future U.S. Olympic team.
Funk says it's a reachable goal, but much more "ring mileage" will be needed for that, as most professional-type riders are well into their 20s before landing such a position.
Perhaps as early as this fall, Snyder's next step will be Grand Prix rides (4-foot-6 to 5-foot-6 jumps), which can carry a first-place prize money of $3,000 at the lower level, and up to $75,000 as she advances up the ranks.
Funk also hopes to have Snyder involved in the North American Young Riders Championship in Chicago next year, along with the Zone 7 competition for Junior Jumpers in Pennsylvania.
Copyright 2018 The Lawrence Journal-World. All rights reserved. This material may not be published, broadcast, rewritten or redistributed. We strive to uphold our values for every story published.