Topeka — State leaders Friday said the legislative session was near meltdown and took turns blaming each other for the mess.
Meanwhile, more evidence of the state's worsening budget situation emerged when it was announced that for the second time this fiscal year the state would short public schools on their monthly payments.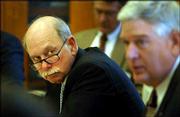 Gov. Bill Graves' office has authorized payment of one-half the amount due schools in April, totaling $68 million.
The other half of the payments will be delivered as soon as the necessary revenue flows into the state, Graves' office said, though officials said they didn't know when that would be.
"This is an unfortunate side effect of our current economic condition," Graves said.
Lawmakers are headed into the final, crucial two weeks of the session still fighting over how to deal with a record $700 million revenue shortfall.
Friday, Republicans in the Kansas House brushed aside Democrats and approved a budget that was $128 million out of balance.
House Minority Leader Jim Garner, D-Coffeyville, observed, "I don't know if we're watching the Keystone Kops or are we watching the Titanic."
Higher education officials were aghast at the House budget plan, saying it would damage Kansas' public universities and colleges for years to come.
Kim Wilcox, president of the Kansas Board of Regents, said preliminary estimates show that the proposal would slash higher education funding by $60 million.
"That's the equivalent of two regional universities' operating budgets for an entire year. It's clearly the most severe threat to higher education in Kansas in the 20 years that I've been here," he said.
Graves, a Republican, opened his regular Friday news conference saying what a shambles the session had become, blaming Republicans and Democrats in the Legislature.
"It's time for everybody to put aside all the political agendas, and all the shenanigans and hoopla and really get down to the serious business of trying to find a solution to put together a budget that will serve the people of this state well," Graves said.
"Things to me seem to be about as tense, about as confrontational that I've seen them in my eight years here. That never bodes well for good public policy," he said.
Much of the criticism Friday was directed toward House Speaker Kent Glasscock, R-Manhattan, after the House rejected a proposed budget, and then on the next day approved it with only Republican votes.
Democrats said they were double-crossed and that they held back on some of their budget amendments because they had been assured another budget bill would come around.
But Glasscock, who voted against the bill and then switched over and voted for it, said the House needed to send a measure to the Senate because of upcoming deadlines.
Glasscock said Democrats have disengaged from the process and want to "take their football and go home."
Copyright 2018 The Lawrence Journal-World. All rights reserved. This material may not be published, broadcast, rewritten or redistributed. We strive to uphold our values for every story published.