Kansas City, Mo. — Seventeen years after the last passenger train pulled out of Union Station, rail service returned Tuesday to the historic downtown landmark.
Amtrak's Ann Rutledge train left the station at 7:35 a.m. on its way to Chicago, via St. Louis. It was the first departure since 1985 from the station, which in its 1920 heyday served 207 trains daily operated by 12 railroads.
Amtrak spokeswoman Kathleen Cantillon said it's premature to say whether the return to Union Station will increase, but she is confident it will increase customer satisfaction.
It also takes the 88-year-old Union Station back to its roots as a transportation hub in Kansas City.
Amtrak took over passenger service at Union Station in 1973, then moved in 1985 to an underground station beneath the Main Street viaduct.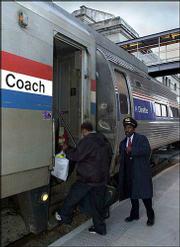 The return of rail service to Union Station is considered the pinnacle of a $250 million project that restored the historic site in 1999.
The station will serve six trains daily. One is a national route, the Southwest Chief, which has a daily eastbound train to Chicago and a westbound train to Los Angeles. A route between Kansas City and St. Louis is served by the Ann Rutledge and Missouri Mule, each of which runs two trains through the station daily.A ribbon-cutting ceremony at the new station is scheduled for Tuesday.
Copyright 2018 The Associated Press. All rights reserved. This material may not be published, broadcast, rewritten or redistributed. We strive to uphold our values for every story published.