If anyone doubts the ubiquity of social media, this week's news certainly begs to differ - specifically, the death of Libyan dictator Moammar Gaddafi and the resulting global rush of tweets, posts and other social commentary documenting the incident. If you've been on the social web at all this week, there's no need to reiterate the key points; you likely already know them, and you probably heard first notice of the news in your Facebook feed, Twitter stream or other social network of choice.
That may itself be the interesting thing, though: Even though it's only been a few months since Twitter made headlines as the main vehicle for reporting the death of Osama bin Laden, the fact that word of Gaddafi's death was a primarily social-media affair now almost seems like a given. Mashable actually did a splendid job illustrating how comfortable we are with social breaking news with this slideshow of key tweets from the day, with moods ranging from ecstatic to cautious to irreverent. Since it's Friday, we'll sign off with one that, while it didn't have much to do with the actual news, made copy desk editors everywhere nod their heads in sympathy: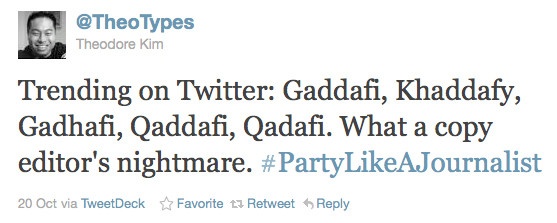 How did you hear about Gaddafi's death this week? What sources - social media, newspapers, websites, TV - do you turn to in a breaking news situation, and what's the medium that usually alerts you to that news in the first place? Let us know in the comments.
Even in Lawrence, thousands of miles away from the massive earthquake and tsunami that rocked Japan, many of us woke up this morning to find the world a different place than it was when we went to bed last night - even if we didn't have a friend, family member or co-worker in some way affected by the disaster. And for many of us, the way we found out about what had happened while we were asleep was via social media: a friend's Facebook post, a retweet of a news update, even our own tweets about the developing situation.
A few years (and a different employer) ago, I remember sitting in a big corporate meeting listening to executives debating what the purpose was of getting on this whole Twitter bandwagon, wondering exactly how long this social media stuff was going to stick around, exactly how much value to individuals and corporations it was all going to offer. In the midst of a major news event like today's, we've got a pretty definitive answer.
On the scene in Japan, with severe disruptions to infrastructure presenting major barriers to getting the word out, social media has been critical to getting the word about about survivors and casualties. CNET reports that "carriers were limiting voice calls on congested networks, with NTT DoCoMo restricting up to 80 percent of voice calls" and that, even with equally spotty Internet in many areas, social networks have been pushed to the fore due to their ability to broadcast a status update to a wide audience with a few clicks.
Tweets on the #sendai hashtag (used primarily right after the quake - currently the major hashtags in use are simply #japan, #earthquake, #tsunami, etc.) have included everything from eyewitness photos to retweets from local and international news sources to, heartbreakingly, individuals trying to find information on loved ones they call out by name or Twitter handle. Facebook, while a distant second in Japan to social network Mixi, is posting user comments about Japan at a rate of dozens per second, as well as a running post stream on the official Facebook Japan page with a focus on foreigners, visitors and others who may not be aware of other sources of info. And as tsunami waves and other disruptions have reached Hawaii and the Americas, the social media dialogue is shifting to those areas' key media outlets, tweeters, bloggers and Facebook users.
In addition to the links above - and by no means a definitive list - here are some social media sources we've been keeping an eye on today. If you've been using social media to keep up to date on the disaster in Japan and elsewhere, where are you going for information? Let others know where to look by posting in the comments.
loading...
Blog: Latest report shows Lawrence residents saw their incomes grow, but city still has less money than surrounding communities

May 23, 2018 · 1 comment

Letter to the editor: Not fit for Nobel

May 23, 2018 · 11 comments

Rock Chalk Park started as $39 million deal for KU; now it may top $100 million after KU allowed lease to be changed

May 22, 2018 · 14 comments

Kansas Supreme Court justices express doubt about school funding hike

May 22, 2018 · 23 comments

Police arrest 18 protesting in Kobach's office

May 21, 2018 · 16 comments

Views From Kansas: Kobach wrong on education

May 23, 2018 · 10 comments

Letter to the editor: Respect for authority

May 23, 2018 · 4 comments

Gunman opens fire at high school near Houston, killing 10

May 18, 2018 · 66 comments

Court rejects Kobach's contempt appeal as premature

May 22, 2018 · 5 comments