Social Media Blog
Today is my last day as social media specialist for The World Company, and though I'm excited about moving on to an opportunity in Boulder, Colo. - my hometown - I'm very sad to be leaving such a versatile, dedicated team here in Lawrence. I've been remarkably lucky to help shape this company's social media strategy as we continue to expand our efforts on the social Web, both on our own behalf and on behalf of Lawrence's vibrant local business community.
It's incredibly reassuring to know that our town's booming social media growth rate is the very thing that'll keep me from feeling disconnected from Lawrence as I move on; after all, I can stay up to date on the latest news, check the weather in a flash, drool over lunch specials that are maybe just a little far away for me to reach on my lunch hour, or see what kinds of great local holiday gifts I may want to order in from afar for townie friends. Because of Twitter, Facebook and the rest, even if I'm not in town, I don't have to lose touch with what's going on in Lawrence - and for that, I'm especially grateful.
I'm looking forward to seeing how my colleagues at The World Company - and Lawrence at large - will continue to embrace social media and optimize how it intersects with the best of newsgathering, reporting, community marketing and local event promotion. Fortunately, it's easier than ever to keep tabs on these trends; all I have to do is look at my smartphone or open up my laptop.
Thanks so much, Lawrence. It's been a really fun time. (And if you'd like to stay in touch, please find my personal Twitter account @dzesika so I can follow you back!)
Well, it's official: After months of speculation as to when they'd be available and what they'd contain, Google+ opened up registration for brand pages this week. And while there's been plenty of bandwagon-jumping going on (we've joined the fray too, with G+ pages for LJWorld.com and Lawrence.com), it'll certainly be a little while until we really see the potential of Google+ for brands. In the meantime, we're all in that fun phase of playing with the new technology and evaluating what we like and don't like. While there's much to appreciate about Google+ brand pages, in this first week we've noticed quite a few things that could, well, use a little tweaking. Anything you'd care to add to this list?
Multiple admins, please. Unlike Facebook brand pages, a Google+ page currently can only have one administrator, making it difficult for brands where several individuals (or more!) speak under one brand voice. No one likes to work 24/7, and most people don't; therefore, it doesn't make much sense to have steering ability for an entire brand page under just one Google account, which is how Google+ authenticates users. Sure, brands can create a communal Google account and use that to register a page, but isn't that against the entire transparency ethic Google+ was built upon? Not to mention teetering on the edge of a TOS violation?
We'd like to join hangouts, not just host them. In the case of a news organization like the Journal-World, it'd be immensely helpful to be able to join a hangout hosted by any one of a wealth of local businesses and organizations already setting up G+ brand pages. And to turn that around in the other direction, if your organization was hosting a press event in the form of a G+ hangout, wouldn't you want the media to be there under official guise? It'll be interesting to see how this protocol develops as more and more people (and businesses) start "hanging out" on Google.
How about Google Analytics? Google's growing creep toward world domination would progress much more smoothly if its services did a better job of talking to one another. For individuals, poor communication between Google+ and Google Calendar has been a major stumbling block in the quest to get people to leave Facebook. For businesses and brands, lack of clean integration (or any) between Google+ and Google Analytics will likely keep brand managers from adopting Google+ at their earliest opportunity ... ironically, because Google Analytics has such high market penetration.
Where are the vanity URLs? Not being able to point your friends or fans to a clean URL (on your business card, email signature or whatever else) is awkward for an individual, but lethal for a brand. Can you envision a newspaper print ad saying something like "Join us on Google+ at https://plus.google.com/#105409509778810673131/ ..."? We can't either. Sure, it's easy enough to create a shortened URL, even a customized one, and point your users to that - but why isn't this built-in Google functionality?
Here's the thing, though. Despite the laundry list of missing features, we still love using Google+, and we're excited about seeing how it'll develop. We're particularly interested in seeing how the Lawrence business community, always quick on the uptake for new tech, will embrace G+ for promoting and discussing local commerce and issues. So, please add LJWorld.com and Lawrence.com to your Google+ circles, and join the conversation!
Want to set up your own G+ brand page, but aren't sure how? Here's a nice tutorial from Mashable. Have you already got a page? Tell us what you think of the new functionality in the comments.
No, the asterisk in the headline doesn't point down to a disclaimer at the bottom of this page. It's actually in the name of the latest Facebook challenger, this one grounded on two ideas: That users should be able to own the information they post to social networks, and that users should be able to segment audiences for their posts into unique channels (Diaspora* calls them "aspects").
Except for one major problem. In the months it's taken Diaspora (sorry, dropping the silly asterisk) to go from Kickstarter poster child to a real live product - a huge batch of invites to the service went out last week - Google+ has pretty much taken care of the audience segmentation problem with its Circles. Or more to the point, Facebook took cues from Google+ Circles and spiffed up their friends list functionality somewhat. As for owning your own information, while that's still a tricky issue with Facebook (here's a nice explanation of how intellectual property rights interlock with Facebook TOS), this spring's status-post memefest of "Facebook owns your photos!" has largely died down.
In other words, there may not be any room left in our social landscape for Diaspora. Which is a shame in some ways, because it's a beautiful site. Check it out:
The interface is clean and easy to use, doesn't carry any ads (yet), and unlike Google+ or Facebook, has built-in support for hashtags - allowing you to discover people based on shared interests, not just shared geography or social groups. You can follow tags just like you can follow individuals, leading to a user experience that's personalized by interests as well as by social connections. It's a fantastic idea ... with no content. In fact, you can almost hear #crickets singing in Diaspora's vacant corners right now.
So is this a case of Diaspora throwing a magnificent party, but no one coming? Perhaps. If nothing else, it's a compelling illustration of how it's going to take more than just a single killer feature to draw people away from Facebook - let alone pry early adopters away from Google+.
Are you on Diaspora yet? Connect with me - I'd love to hear what you think of the new service. Or just leave a comment below.
After months of buzz and speculation, after an oh-so-trendy promo video that made the rounds on YouTube, after months of waiting for an invite, we're finally in to the beta rush for new "liberated" social network Unthink!
Well, kind of. Actually, not really. But we did get to play with the long-anticipated, much-maligned alternative social net before it collapsed under its own weight this afternoon. For about 15 minutes, much of which was spent watching Firefox spin its little "Loading" icon. And here you have it: the social network that is going to Fix Everything. Maybe.
All sarcasm aside, it's got to be said that Unthink's got a pretty messy user interface, particularly compared to the early days of Facebook. (Let's ignore the current Facebook-in-transition UI mess for the time being; if we assume that a new social network will start simple and grow in interface complexity from there, well, Unthink has some issues already.) The whole modular "portal" layout feels a lot like iGoogle, which itself never really took off but is reflected in hundreds of dashboard-style welcome screens for every web-based app imaginable. But what's this "Lifestyle Tree"? And what's with the old-school news ticker at the bottom of the screen? Oh, and apologies that the ticker in the image above is obscured by my Mac OS dock; when I went to snap another screenshot, it was too late. All I got was this:
Looks like exploring Unthink may have to wait a little while until they get some server load issues worked out. Not exactly an auspicious start.
That said, it sounds like Unthink might hold some promise. Privacy controls are out in the open - everywhere, almost to the point of repetition. Default sharing settings lean toward the private rather than the public, a contrast from Facebook's tendency toward releasing privacy updates that require manual user action to return to previous settings. And if nothing else, there are bound to be new features included in Unthink that, if they don't give Big Blue a run for their money, will at least inspire Facebook to ape something similar in a future rollout. (Google+ circles, anyone?)
We're curious to see if anyone else has played with Unthink yet. Got a screenshot you can share, or just general opinions? Let us know in the comments.
If anyone doubts the ubiquity of social media, this week's news certainly begs to differ - specifically, the death of Libyan dictator Moammar Gaddafi and the resulting global rush of tweets, posts and other social commentary documenting the incident. If you've been on the social web at all this week, there's no need to reiterate the key points; you likely already know them, and you probably heard first notice of the news in your Facebook feed, Twitter stream or other social network of choice.
That may itself be the interesting thing, though: Even though it's only been a few months since Twitter made headlines as the main vehicle for reporting the death of Osama bin Laden, the fact that word of Gaddafi's death was a primarily social-media affair now almost seems like a given. Mashable actually did a splendid job illustrating how comfortable we are with social breaking news with this slideshow of key tweets from the day, with moods ranging from ecstatic to cautious to irreverent. Since it's Friday, we'll sign off with one that, while it didn't have much to do with the actual news, made copy desk editors everywhere nod their heads in sympathy: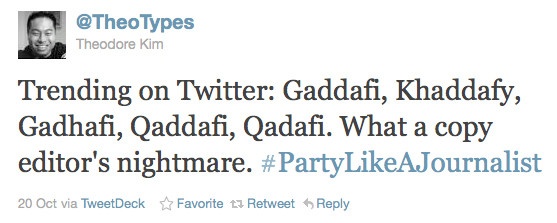 How did you hear about Gaddafi's death this week? What sources - social media, newspapers, websites, TV - do you turn to in a breaking news situation, and what's the medium that usually alerts you to that news in the first place? Let us know in the comments.
About a month ago, we held a community roundtable at the News Center to discuss the question of where social media and privacy intersect. It was a lively forum that provided us valuable feedback on social media use in our own newsroom, but it also held a wider-ranging purpose: The results of our meeting were summarized and sent to the Associated Press Media Editors as part of a larger study on social media and the press.
If you attended the roundtable - or if you didn't, and are curious about what we discussed - here's the summary version of what was recently sent to APME, courtesy of Jonathan Kealing. As always, we'd love to hear any comments or thoughts you may have on these findings; please leave a comment below. Thanks!
Six people joined the conversation in person and about five to seven people joined in via Twitter. Among the participants were two attorneys or law students, as well as three people who might be described as experts in social media. The rest were a mix of interested locals who use social media regularly and are interested in privacy specifically or the media in general.
We had a far-ranging discussion of several different topics (you can find the topics described here) from our newsroom and from a newsroom in Maine. We talked for nearly two hours and did not get to the final scenario. The discussion on the previous scenarios was quite good. We also discussed social media and privacy in the context of other industries in attendance, which, while educational and interesting for everyone, isn't necessarily germane to this report.
While none of these recommendations are game changers, they are worth codifying and considering whenever journalists put themselves in a position where their tweets, Facebook posts and links could invade the privacy of someone else.
• When tweeting about something that is happening in real time, do your best to make your presence known. Be up front that you're with the media, especially if the topic is potentially sensitive.
• Consider the important role that the media plays as a filter — someone who comforts the afflicted and afflicts the comfortable. Remember objectivity as well. Not every tweet deserves to be retweeed, not every Facebook profile deserves to be linked. Sometimes, our audience wants to know what we're talking about, and not be able to find it directly. Sometimes, we can best protect criminal suspects or others by describing what they say on their social media accounts, rather than linking to them directly.
• When possible, seek permission before reposting or sharing information that someone shared via their social media account. This may not be practical in some circumstances.
• Remember that on some occasions, sharing information may actually be the best way to help someone protect their privacy. Social media has given everyone the ability to publish — and report. When something curious has happened, people will post about it on Twitter until they can find out what happened. A discreet, well crafted post via social media can squash rumors that may otherwise be uninteresting. For example, with a suicide in a private place, there may still be a large police presence. If people are curious about it, they will remain curious and keep posting until they find out it's a suicide.
Above all, the best advice is to always keep the privacy of producers and consumers of social media in mind — just as we always have when publishing in the analog media world. The particular elements of social media, however, may require new behavior.
When it comes to social media and the workplace, we're all aware that the possibility for thorny issues abounds, whether you're on the employer or employee side of the equation. And if we've been watching industry news, we can all probably point to at least a few incidents where an employee or prospective hire's Facebook party photos or off-the-cuff Twitter posts have led to disciplinary action, termination or never being considered for a job in the first place.
But where the legal aspects of employer social media behavior are concerned, it's still largely uncharted waters. Sure, there have been a few high-profile lawsuits, but it's tough to come up with a list of social media legal precedent that doesn't include guidelines already established by common sense. That's why it's particularly interesting to see news of this lawsuit come up - a National Labor Relations Board ruling addressing whether a company can fire employees for posting critical comments on Facebook about co-worker job performance.
The verdict was no, but the really interesting thing about the decision is that the ruling wasn't made on First Amendment free speech guidelines, which have in the past largely been the backbone of other employees' social media suits. Instead, this decision invoked Section 7 of the National Labor Relations Act, which states that worker dialogue is protected as long as it's part of an effort to improve working conditions and wages. Furthermore, the NLRB also issued a report on 14 social media case investigations, giving HR professionals and social media experts new ingredients and guidance for building or revamping corporate social media policies.
If you're an employer or involved in your company's HR structure in some way - and this should include social media pros for any business with a serious social presence - it's worth looking over the report and seeing if your own company's social media policy may need an update. After all, with the status of social taking new directions every day, what may have seemed like an inclusive policy six months, a year or two years ago may need tweaking. Don't have a policy? Feel free to borrow ours and use it as a boilerplate for building your own.
If the recent NLRB ruling - or any social media news of late - has encouraged you to amend your corporate policy (or change the way you as an employee interact on social), we'd love to hear about it. Let us know in the comments.
When you log in to Facebook on Saturday (and if you're reading this, you probably will), you might notice things are a little different. Quieter, even. And if your News Feed is clogged with notifications about what your friends are doing in apps you don't care about - well, that might get a bit better too.
Why? As of Oct. 1, Facebook is requiring that all apps move over to SSL authentication - in short, the sort of secure browsing that you see when you're, say, paying your credit card bill online. (You can recognize secure browsing in a variety of ways: a little padlock icon or a change of color in your browser address bar's background, as well as a site address that starts with the prefix https://.) For the most part, this is a good thing; after years of being plagued by security issues, Facebook's system-wide switch to SSL browsing is a major acknowledgment that we're living more and more of our lives, including the high-security parts, online.
The Facebook developer community has actually been prepared for the shift for several months, which is pretty rare when it comes to Facebook announcements. Most users have been using facebook.com over a secure connection for months now; the ability to access Facebook via SSL was launched in January, and users have been slowly auto-urged to upgrade. So why is it anticipated that thousands, if not tens of thousands, of apps will go silent on Saturday morning? (Any app not using SSL will be relegated to "sandbox" mode, which means its developers can see it but no one else can.) Chalk it up, maybe, to the conceptual shift developers have to make when Facebook actually gives advance notice of a change. Or, perhaps, delays in changes to apps as a result of devs waiting for all the shiny new features announced last week during f8. Or it could just be the laziness factor of creating something and failing to support it. After all, browsing abandoned apps in Facebook's erstwhile App Directory gave off ghost town vibes; maybe that's why Facebook axed the directory earlier this summer.
We're curious. Will your Facebook user experience be different with fewer apps to contend with, or will you notice the difference? And if you're an app developer, how have you coped with the shift? Let us know in the comments.
Well, f8 came and went - and we'll probably be shifting through this most recent round of Facebook changes for the next few weeks, if not longer. This year's annual Facebook developer conference introduced what's undoubtedly the biggest shift Facebook's ever taken, and on a few different fronts. Here's the Cliffs Notes version of the two biggest changes.
1. Revamped Timeline profile view. Since it's what everyone really wants to know about immediately, here goes: my own (slightly anonymized) profile in the new layout. Pretty? Definitely. A major usability improvement? Not entirely sure yet.
Right now, the new Timeline view is only available to folks who have Facebook "developer" credentials, and even if you're listed as a dev, you can only see the revamped profiles for folks who are also devs and have enabled their new layout. (Lest this make me sound impressive, a Facebook developer for this purpose is anyone who's ever built a FB app, no matter how simple.) In his speech today, Zuckerberg said full rollout would happen over "a few weeks," though who knows what that really means. (I did note that when invited to upgrade my profile, Facebook stated it'd be pushed live September 29 even if I hadn't approved changes; not sure if that's a dev-only rollout, or for everyone.)
2. A renewed Open Graph with better app integration. What's Open Graph? It's Facebook's protocol for communicating with third-party sites and apps that want to use your profile info. If you've ever commented on a post on a third-party site using your FB login, or shared a link to your profile directly from a web page, you've used it. The next-generation Open Graph introduced today at f8 is much, much more flexible and capable - and for the average user, this means apps like Spotify, Foodspotting and Netflix will play considerably nicer with Facebook in general and your profile posts in particular. And this, in turn, means you'll be exposed to much, much more of what your friends are listening to, watching, eating and doing. Watch Facebook's video of how this works and how it'll eventually appear in the News Feed and elsewhere. A core set of apps are already live, though your mileage may vary; for example, I've been trying to launch Spotify for the last hour or so with no success. (Network choke, anyone?)
And that brings us to the Ticker: What seemed at its launch two days ago to be an exercise in redundancy (why would we want that sitting right next to the News Feed?) suddenly makes a lot more sense. If my in-app activities (listening to a song, photographing my meal) live in that region of my friends' Facebook screens, those tiny updates become less of an interruption and more of a quick-and-easy sharing option. In other words, for a while at least, the News Feed is where friends and brands tell us about stuff; the ticker is where we see what they're doing and whether we want to do it, too.
There's a lot more to today's announcements, but until all the various bits and pieces are rolled out system-wide, we're all peeking through a bunch of tiny windows. What bits of the new Facebook are you seeing already? What do you think of them? Share in the comments below.
Social media and privacy: Are the two mutually exclusive, or is it still possible to keep areas of your life private online? And what happens when law enforcement, the media or both get involved?
That's what we examined last night at a community roundtable here at the News Center, and the discussion was lively. And while we're of course interested in this issue on a local level for its own sake (the discussion continues next Wednesday, Sept. 21, at the weekly Social Media Club of Lawrence breakfast), our roundtable served a national purpose, too. The summit was part of a credibility study by the Associated Press Media Editors (newly renamed) that will cover several facets of social media. LJWorld.com and the Lawrence Journal-World, as well as KnoxNews.com and the Knoxville News-Sentinel, are the two newsrooms in this study looking at the intersection of social media and privacy.
At the bottom of this post are a few examples of where someone's life was changed — or they felt it was changed — because of information shared via social media. During our roundtable, we examined the examples and discussed what we or another news organization might have done right or wrong under the circumstances, and what could have gone differently. We had some fantastic feedback from those in attendance both in person and via Twitter; thanks to everyone who came to the News Center last night, or joined @WorldCoSocial in a Twitter chat on hashtag #socialprivacy. (Click the link to search the hashtag for items discussed, or watch this space for a more definitive summary soon.)
If you didn't make it to our roundtable, we'd still like to hear your thoughts on social media and privacy, particularly regarding the situations outlined below. Or, if you'd prefer to make your opinions known in a more private forum, send an email to Jonathan Kealing (via Gmail at jkealing@gmail.com, not his old LJWorld.com address); he'll be helping wrap up this project from his new post in Minnesota). If you have any other examples of ethical dilemmas in the intersection of social media and reporting, we'd like to hear them as well.
Once everyone's opinions are gathered in the same place, we'll share a summary here in this blog. Thanks for weighing in!
Here are the discussion items:
1) Over the police scanner, a reporter hears a report of a "Code Black" (dead body) at a home in the area. A quick phone call to emergency dispatchers advises it's being treated as a medical — an unattended death. A quick tweet is put out saying that an ambulance and police are investigating an unattended death, but it's believed to be a medical. No other action is taken by the reporter, but a competing news organization goes to the house later and bangs on the door, disturbing a grieving spouse. The spouse calls the original news organization and complains.
2) A father kills his estranged wife and two children before killing himself. The man's Facebook page is public. It includes numerous pictures of himself with his children and wife, and frequent wall posts on how much he misses his children and the fun they used to have together, with other posts from friends and relatives trying to console him. He does not mention that he is legally barred from seeing his children because he had been charged with holding the family at gunpoint as he threatened to kill his wife. The wife has a Facebook page, but hers is restricted to only be viewable by her friends, so there's no way to see what, if anything, she was saying.
3) Two reporters are covering a public forum where community members are speaking with elected officials about the closure of the local social services office. Many speakers are identifying themselves by name and as the reporters are tweeting about the meeting, they are identifying the speakers. There are numerous cameras and hundreds of people in the room. A few days later, one of the speakers calls the newsroom and is upset that her name was listed in the tweet.
4) A man is arrested and charged with killing his wife. We find the Facebook page of the woman's daughter, who is about 14. On her profile, which is public, she expresses her grief and shock and says repeatedly that she is sure that her stepfather killed her mom and makes allegations that he had previously abused her mother.