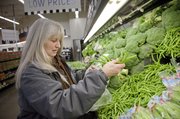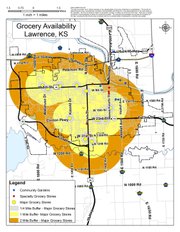 Related document

Lawrence grocery store access map ( .PDF )
At the grocery store, Mary Drouin will probably be in the outermost aisles, selecting the healthiest fresh produce, milk and eggs she can afford.
"I don't shop the 'dead food' in the middle," Drouin said. "I feel better, and I have more money for food ... the convenience stuff, it adds up."
But sticking to her healthy goals is a challenge for Drouin because of where she lives (North Lawrence, which has no supermarket) and how much money she makes (not much).
Drouin is one of nearly 18,000 Lawrencians living in a federally designated food desert, four adjacent census tracts that blanket the northeast part of the city. A combination of low incomes, lack of supermarkets and lack of transportation makes it more difficult for many residents of these areas to get fresh, healthy food.
There are efforts to create oases in Lawrence's food deserts. However, in the era of box stores and vehicle-driven development, it's not easy to pull off something significant enough to shake the "desert" designation.
"When I was growing up, there was a grocery store every four blocks," said Ted Boyle, North Lawrence Improvement Association president and a neighborhood native. "Most of the residents just walked."
The last grocery north of the river, Rusty's IGA at North Second and Lincoln streets, closed in the mid-1990s, Boyle said. He gets lots of calls wondering when the neighborhood will get another grocery store.
Boyle wishes he knew.
'This is independence'
No home in North Lawrence, Drouin's included, is closer than 2 miles to the nearest major grocery store. Additionally, Drouin said her current income, from disability, is around the poverty line.
Drouin does own a vehicle, but a vision impairment means her driving is limited to in-town trips in daylight and good weather only. Plus, to save on gas, she avoids driving any more than she has to.
Drouin plans trips carefully.
She makes one big grocery run at the beginning of each month, hitting Aldi for the best prices on frozen meat, Checkers for fresh produce and dairy and Natural Grocers for herbal supplements and filtered water (it's the cheapest in town, she said). Since fresh produce won't last all month, she supplements with short visits to Dillons in between.
"I don't do leisure trips," Drouin said. "This is independence."
A number of North Lawrence residents cannot drive, Boyle said. Catching a ride across town is harder than up the street, he said, and while some large stores across the river offer grocery delivery, it comes at an extra cost.
"Most people that are handicapped or elderly live on a fixed income, so 5 or 10 bucks is a lot of money to them," Boyle said.
Food oases
A few fill-in food sources have emerged, or emerged in importance, in local food deserts, though.
While they only yield produce in warm months, the city now has seven Common Ground Community Gardens, all within or near food desert boundaries. Also, the downtown and Cottins Hardware farmers markets accept food stamps.
And though they're meant for emergency assistance, Lawrence's food pantries are more densely clustered in the food deserts, said city commissioner and Just Food CEO Jeremy Farmer.
"Where there are food deserts there have to be emergency food pantries to help meet the needs," Farmer said.
Brook Creek Neighborhood Association president Andrea Repinsky said the group isn't making formal efforts to attract a grocery store but that the pantry is important for nearby low-income residents.
"We are really lucky to have a resource like Just Food in our neighborhood," Repinsky said. "It's kind of like a little light in our food desert dark spot."
Dollar store dining
North Lawrencians tried writing the city's other grocery stores and urging them to consider crossing the river, Boyle said. A few stores said they'd research it.
That was about 12 years ago, Boyle said.
The North Lawrence Dollar General, 1001 N. Third St., opened in 2010 and responded to residents' requests for a bigger grocery selection.
"It helped tremendously, but it's not like a full-service grocery store with produce," Boyle said.
Dollar Generals in small communities often carry cooler items such as bread, milk, eggs, frozen pizzas, bacon and sausage, corporate spokeswoman Crystal Ghassemi said.
"In some of those areas we're the only store for miles," she said. "Understanding that convenience is a major factor in customer shopping decisions, we want to be able to offer a selection of those items."
Dollar General has some market-format stores that actually carry fresh produce, Ghassemi said. At this time North Lawrence isn't planned to become one of them.
The Iwig Dairy Store, which opened in July at 622 N. Second St., offers a small selection of locally grown produce, in season. There's always ample amounts of Iwig's beloved local milk, butter and ice-cream, although the price is higher than generics.
East Lawrence grocery?
If anyone has a business plan and a balance sheet that makes sense for a small grocery store in East Lawrence, Warehouse Arts District developer Tony Krsnich wants to talk.
Grocery stores aren't usually big moneymakers for developers, Krsnich said. Instead many developers would choose to, say, fill an old warehouse with high-end condominiums, sell them and move on.
Krsnich totally gets that. It's business.
In his case, however, he said he has a long-term vision for the warehouse district on Pennsylvania Street. There should be a balance of housing and other amenities, and right now there isn't.
"You have to have vibrancy and sustainability for something to make it in the long run," Krsnich said. "For those reasons, we are kicking and screaming for something like a grocery store to come in."
Copyright 2018 The Lawrence Journal-World. All rights reserved. This material may not be published, broadcast, rewritten or redistributed. We strive to uphold our values for every story published.