Contact KU and higher ed reporter Sara Shepherd
Have a tip or story idea?
---
More stories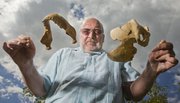 As he readies himself and his office for retirement, Kansas University anthropology professor David Frayer's career has become a kind of excavation site, something he's plenty familiar with.
He's been digging through his stuff, upending his office. After nearly 40 years at the university, Frayer now has to find new homes for the bones, casts, books, journal articles and countless other artifacts he has accumulated over a lifetime. Pulling book after book from a shelf in his office, which enjoys a stunning western view over campus from the sixth floor of Fraser Hall, Frayer frets over them.
The books contain drawings, photos and descriptions of scientifically important remnants of long-gone human ancestors. Many of the books are several decades old. Some are in Dutch. "You hate to throw them away, but then again, who's ever going to want them?" Frayer asks.
Some of the books, Frayer might have a solution for. He's looking into getting them shipped to Eritrea, a small country in the horn of Africa, where Internet access and academic collections are scarce. But what about the less conventional fare? What about the bone cast collection he's built up, one of the largest in the region? What about the teeth former students have given him? (Don't be alarmed, they were given to Frayer voluntarily, removed by a professional dentists, and were used in class for instructional purposes.)
Maybe nobody else would want these things, but they have come to Frayer through his work and friendships. They mean something. They tell a story, like the fractured skull of an early human, or a tool used by a Neanderthal, tell a story.
The most satisfying thing
In fact, Frayer's story and that of modern humans and Neanderthals have all converged in ways totally unexpected to him.
From the time of their discovery, Neanderthals, as Frayer wrote in a New York Times op-ed from May, were seen as "stumbling, bumbling, mumbling fools who aimlessly wandered the landscape eking out a miserable, forlorn existence."
Frayer himself played a role in teaching humans otherwise — that Neanderthals were smart, cultured and closer to modern humans than anyone had thought.
It started when a Czechoslovakian friend showed him the skull of an early modern human with a long, low cranium. Frayer realized it shared anatomical features with Neanderthals. "While I looked at it, I went, 'whoa!'" Frayer said. That was in 1974, and few people were ready to leave behind their notions about Neanderthals just then.
After more than 30 years, and major technological strides in gene sequencing technology, Frayer and his colleagues have been vindicated. Scientists working to map the Neanderthal genome have found that modern Europeans share about 4 percent of their genes uniquely with Neanderthals, a proportion large enough to suggest there was almost definitely some hanky-panky that went on between the two groups.
"In many respects, that's the most satisfying thing that's happened," he said. "You always want to be right. Nobody believed us."
Moving on
Certainly there has been more to his career and life than bones. For one, he's travelled a wide swath of the world: Europe and Africa, Indonesia and Israel. He's written a cookbook, compiled after examining and photographing the insides of refrigerators of friends across the world.
He also, briefly, joined the carnival.
It's been an interesting career, and it's not entirely past him. In the spring Frayer will work on a research project and attend an international conference later in the year.
At home he'll have his garden and his chickens to occupy him
And he'll have the spring semester to finish cleaning out his office.
Copyright 2018 The Lawrence Journal-World. All rights reserved. This material may not be published, broadcast, rewritten or redistributed. We strive to uphold our values for every story published.