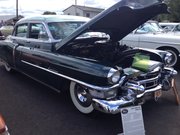 Fred Klafta was happy to talk with anyone who wandered by his Cadillac at the 41st Annual Antique Car Show on Sunday morning.
He would tell onlookers everything about the 1953 Cadillac Series 62, from the lacquer colors (mint metallic green over dark forest) down to the 12-volt original wiring system.
Klafta knew the original owner and the fact that she received the car brand-new as a birthday present. He knew every repair his father, Casimir, made to the car during the 45 years he owned it. And he would tell of the grand plans he still had in store.
Though he told the car's story a different way each time, he always started out the same.
"This car has been in my family since 1961," Klafta would say.
Telling his story
On Sunday, Klafta drove from Kingsville, Mo. to the Douglas County Fairgrounds for the Lawrence Antique Auto Club's annual car show, where he pulled into the lot with about 120 other antique cars.
Buicks and Cadillacs were the featured cars at this year's event, so he had the ideal central location. There, he propped up the hood, set up a chair and waited to tell his tale.
Klafta's father purchased the car for $350 from a woman in Chicago. Casimir Klafta was a full-time plumber and would work on the car in his free time.
"There's no cheating. He did everything right," Klafta said. "Most of the paint is original, but the color was all faded, and every day dad would come home and use a rubbing compound — the good stuff. He would do a section, then remember where he left off. He had to do it little by little."
For ten years, the car was only driven to the weekend flea market, church and on vacations.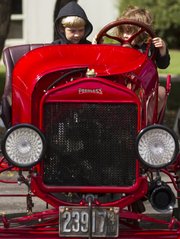 After Casimir's death in 2005, Klafta took over the ownership of the Cadillac and the responsibilities that came with it. Like his father, he continuously works on it, paying special attention to the details.
When he saw three missing buttons on the upholstery of the passenger seat, Klafta found original replacements and had them put in. He makes sure to keep the car out of the elements, because even a little bit of rain can create rust.
Klafta has the engine checked out by a mechanic at least once a year, and is still finding new ways to keep everything maintained.
"With old cars, there's one guarantee — something will always go wrong," Klafta said. But you learn these little tricks like that over the years."
Aiming for perfection
The Cadillac was entered into its first car show in 1972. Since then, it has received 75 first, second or third place awards in shows in Illinois, Wisconsin, Iowa, Kansas and Missouri. It also has received two awards on the national level.
But Klafta has his sights set even higher.
His ultimate goal is to earn the Preservation Award from the Antique Automobile Club of America, a recognition that would designate Klafta's Cadillac as a sterling example of restoration.
"It's not a big plaque or a trophy, all it is is a pin about that big," Klafta said, indicating the size of a dime. "It would go on the back of the rearview mirror, that's where it's going to go."
Klafta said he has just one more hurdle in front of him. He's planning to take out the windshield wiper motor and ship it to Pennsylvania to an individual who rebuilds them.
"That's the last thing," he said. "Then 95 percent of everything in this car will be working. It would become a template for anyone else who wants to restore a car as an original."
In addition to working on the car, Klafta is working on its story. He compiled a large book containing information on each of its parts, old advertisements, its original sales ticket and photos of his father. It has taken years of research, and he continues to add to it.
Because, for Klafta, telling the story of his car and his dad is the best part.
"There is pride in telling this story," he said.
Copyright 2018 The Lawrence Journal-World. All rights reserved. This material may not be published, broadcast, rewritten or redistributed. We strive to uphold our values for every story published.