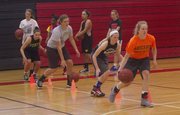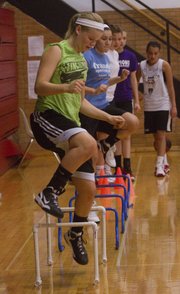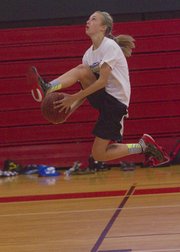 Most basketball teams wouldn't get too excited about a little summer league success. But most haven't gone through the kind of seasons Lawrence High's girls experienced the past two years.
The Lions went 3-18 last season and 6-15 the previous winter. That's why LHS coach Nick Wood and his players felt so exuberant after they capped their first day of summer camp Tuesday with a trip to Overland Park for a summer-league doubleheader. Lawrence beat Olathe East and kept up with Shawnee Mission Northwest for most of a loss.
The lone win didn't give the Lions confidence. It was their style of play in both exhibitions that made them feel like a better basketball team. Wood needed them to play the kind of defense that created great offensive opportunities, and that's exactly what he saw.
"We went out and picked up full court and trapped all over the place," Wood said. "We were scrappy, we competed hard and supported one another."
Guards Marissa Pope and Imani Simmons, who will both be juniors, established the tone with their pressure defense and speed. Pope missed most of her sophomore season because of an injured right foot. On the second day of camp Wednesday, she said LHS was more athletic and versatile on defense than the team that struggled this past winter.
"Looking back on it, we were so slow," Pope said. "This year, we're flying down the floor, causing turnovers, and that hasn't happened in the two years I've been here."
The funny thing is, the Lions haven't even had a chance to review transition offense yet.
"It kind of came naturally," Pope said, "and people were running the floor and caused the game to go faster."
Kionna Coleman, entering her senior year as an LHS forward, said the up-and-down pace wasn't limited to the perimeter. She and Makayla Bell are athletic and active enough to cause problems for the opposition.
"We can run the bigger teams around," Coleman said.
As the Lions continue working at camp through Friday and practice and play this summer, they expect to maximize their newfound identity and work together to establish roles and responsibilities. Pope, Simmons, Coleman and Bell aren't the only returning players. Jolana Shield gives LHS another outside shooting threat, and Hailey Belcher received her first taste of varsity playing time in small doses last season.
Lawrence hopes to benefit from the additions of junior Matia Finley in the post and incoming freshman Jaycie Bishop, already an accurate shooter, on the perimeter. Caroline Dykes, an athletic rebounder, and Rebecca Finley could find their way into the rotation as well.
The Lions still must find a way to overcome the struggles that have plagued them the past few seasons. If they want to compete on a nightly basis, they need to be effective offensively in the half court, take better care of the basketball and capitalize on their high-percentage shots.
But they've seen enough to feel optimistic about what this group can become. Pope said it started in their summer-league debut.
"People were getting mad," she shared. "They cared enough to go out and fight. We came back in the game from being down and beat a team that we lost to in the season. There's just a fight that's there that wasn't there in previous seasons."
Copyright 2018 The Lawrence Journal-World. All rights reserved. This material may not be published, broadcast, rewritten or redistributed. We strive to uphold our values for every story published.